News
---
Deep South Wins GBRIA Best of Division I Workforce Development Award
Posted: 09/24/2019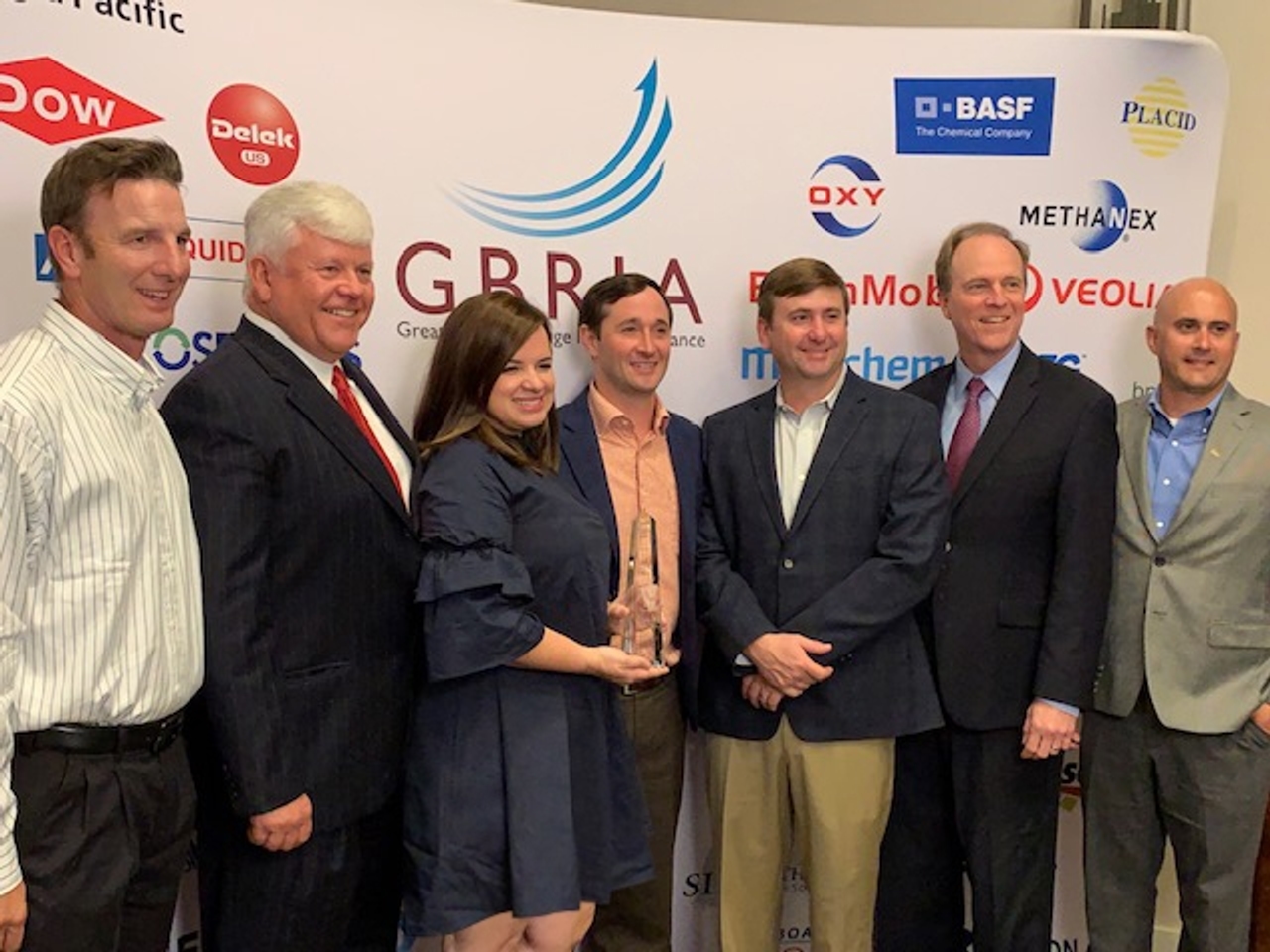 September 24, 2019 – The Greater Baton Rouge Industry Alliance (GBRIA) honored Deep South Crane & Rigging with their Best of Division I Award at the 12th annual Craft Workforce Development Awards on Thursday, September 19th. The awards recognize industrial construction and maintenance contract companies who demonstrate excellence investing in workforce development programs, which include elements such as recruitment, assessment, training, career path development, and retention of employees. Eligibility is based on nominations by GBRIA members, who submit their highest performing contractors for consideration. Deep South was nominated by ExxonMobil.
"We appreciate the nomination from ExxonMobil, Baton Rouge in recognition of our efforts to provide a skilled and knowledgeable workforce to them in support of their rigging, lifting, and hauling needs," said Louise Landry, Safety Advisor at Deep South.
Deep South's workforce program starts with identifying eligible candidates for hire, then developing their abilities with on-the-job training, mentoring, and experience in our industry. As employees demonstrate competency in their field, they are moved into levels and areas with more responsibility and authority. Focus is placed on promoting within the organization and developing personnel into their best roles. The result is a workplace that is driven by employees who know the tools and methods for getting the job done safely, timely, and effectively.
Furthering this commitment, in 2017, Deep South established the Heavy Hitters campaign to attract 17-24 year old talent to the industry. Local schools use Heavy Hitters campaign materials to discuss and inspire young people with real-world opportunities for success using their natural and sometimes overlooked skill set. One of the first programs to move forward under the Heavy Hitters campaign was Louisiana's first Lift & Move USA event at the Deep South headquarters in Baton Rouge, LA in 2017. Deep South will also co-host a Lift & Move USA event in Houston, TX on November 7, 2019.
"We believe investing in workforce development is investing in our future," said Kate L. Varisco of Deep South. "We love our people, our business, and our industry, and we believe promoting it will bring the next generation of skilled talent our way. We are especially honored to receive this award because we have invested heavily in our training program and believe it is our most valuable tool in keeping people safe."
The Craft Workforce Development Awards began in 2007 to help improve skills and promote best practices for craft workforce development in the region. Industrial contractors who have worked at GBRIA member sites, GBRIA members plants, innovators of workforce development, area high schools and area post-secondary education institutions are all eligible and encouraged to participate in this awards program.
If you would like more information about this topic, please contact:
Margaret L. Pernici at 225-754-0454 or Kate L. Varisco at 225-753-4371

----------

About Deep South: Deep South Crane & Rigging is a leading provider of heavy lift and transport solutions in the refining, chemical, and energy sectors and strives to provide its customers the best tools to complete the task at hand and is home of the VersaCrane fleet. The firm offers a complete range of services, from bare crane rental to turn-key heavy lift and transport solutions to clients in North and South America. It operates out of 8 locations including Baton Rouge, LA; Sulphur, LA; New Orleans, LA; Dequincy, LA; Beaumont, TX; Houston, TX; Westville, IN; and Catlettsburg, KY. Sister company DS Americas operates out of Bogota, Colombia. Recent recognition includes 2018 Houston Business Roundtable (HBR) Best of the Best Safety Excellence Award and 2019 Mentor Award; 2018 Industrial Safety Training Council (ISTC) Safety Achievement Award; 2018 Greater Baton Rouge Industry Alliance (GBRIA) Contractor Safety Excellence Award, Crane & Rigging; 2019 Greater Baton Rouge Industry Alliance (GBRIA) Workforce Development Best of Division One Award; 2018 and 2019 Specialized Carriers and Rigging Association (SCRA) Safety Award; and 2018 and 2019 Louisiana Worker's Compensation Corporation (LWCC) Safest 70.


---
Deep South Crane Honored with 2019 SC&RA Safety Award and LWCC Safest 70
Posted:05/16/2019
Deep South is honored to have recently received two safety awards. On April 27th at the Specialized Carriers & Rigging Association's (SC&RA) annual conference in Carlsbad, CA, Deep South received the 2019 Crane & Rigging Group Safety Award, and three Deep South crane operators received the Crane Operator Safety Award. LWCC also recognized Deep South in their Safest 70 award program.
Deep South Crane and Rigging Ranked in Top 10 of the 2019 IC50
Posted:07/09/2019
Deep South was recently ranked 9th in International Cranes and Specialized Transport's IC 50 Index, which ranks the largest crane-owning companies worldwide. Companies are ranked by their IC Index, calculated as the total maximum load moment rating, in tonne-metres, of all cranes in a fleet. Deep South was previously ranked #13.
---
​