News
---
The Why Behind All That We Do
Posted: 04/10/2020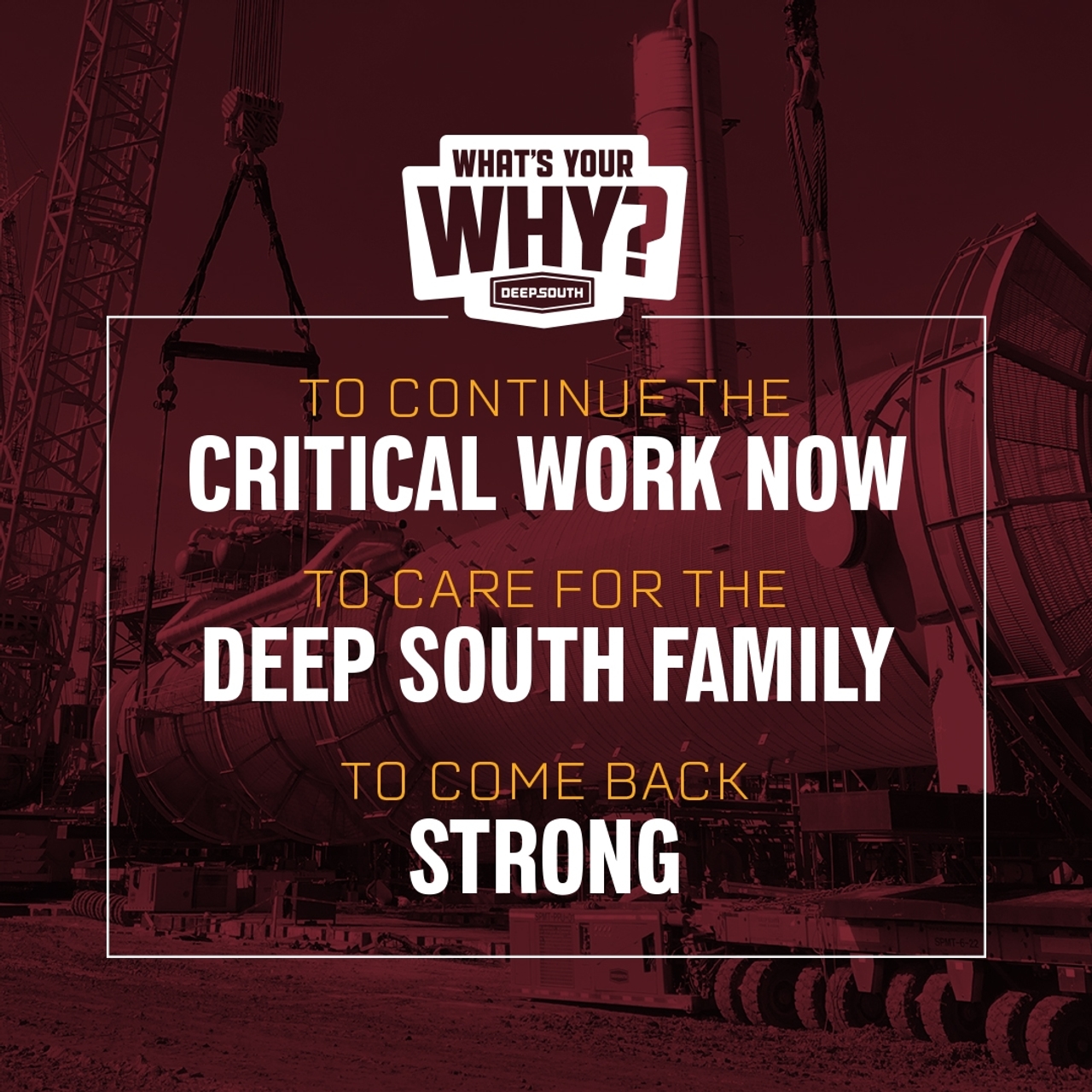 As we entered 2020, the Deep South team renewed a company-wide conversation about the "why" behind all that we do — why we come to work each day, why we stay safe, why we work hard, and why we strive to be the best.
THIS FOCUS HAS NEVER FELT MORE IMPORTANT THAN RIGHT NOW.
The public health and economic challenges we all face are unlike any that most of us have ever experienced, and what lies ahead is largely unknown. But if we look to our collective "why," we believe our purpose and priorities are clear:
TO CONTINUE THE CRITICAL WORK NOW – Our clients provide important infrastructure, and we're committed to supporting their projects in a smart, safe, efficient manner.
TO CARE FOR THE DEEP SOUTH FAMILY – We stand with our employees, customers and vendors, and pray for their health and safety as we navigate this together.
TO COME BACK STRONG – Moving forward, we'll be ready for any challenge, and we're completely confident our team will rise to the occasion.
As we work to regain the momentum we've built over the last several years, our "why" will guide us to do what we do for the right reasons — and to never aim to be the biggest, only the best. On this, you have our word.
Please stay safe and take care of one another. If we can help you, let us know.
---
A Letter to Our Clients | Deep South's COVID-19 Response
Posted:03/20/2020
We know that the coronavirus (COVID-19) pandemic outbreak continues to be top of mind for many of you – just as it is for all of us here at Deep South Crane & Rigging. With the health and safety of our employees, families, clients, vendors, and communities prioritized, we want to share with you our current plans for the continuation of our business operations.
---
​