News
---
Deep South Named Houston Safety Excellence Finalist; Top Recognition 5 Years Running
Posted: 05/13/2020
Deep South Crane & Rigging is proud to announce we were selected as a finalist for the Houston Business Roundtable's 33rd Annual Houston Safety Excellence Award in Crane & Rigging Support.

The HBR award is especially meaningful to Deep South because it requires nomination by one of our customers. Also, the category award winners from each year become Mentors — the highest honor a company can receive in the program — for the next year, working with other contractors throughout the evaluation process. Following our Best of the Best Awards in 2016 and 2018, we served as a Mentor in 2017 and 2019.
Unfortunately, COVID-19 health and safety protocols prevented the organization from conducting final field evaluations to audit and score the finalists' on-the-job safety programs.
Nothing is more important to Deep South than the safety of our team, partners and customers. And while we all looked forward to the possibility of another Best of the Best Award, we'll continue to do what earned us the HBR finalist designation: lift our customers' expectations and make safety the foundation of every success.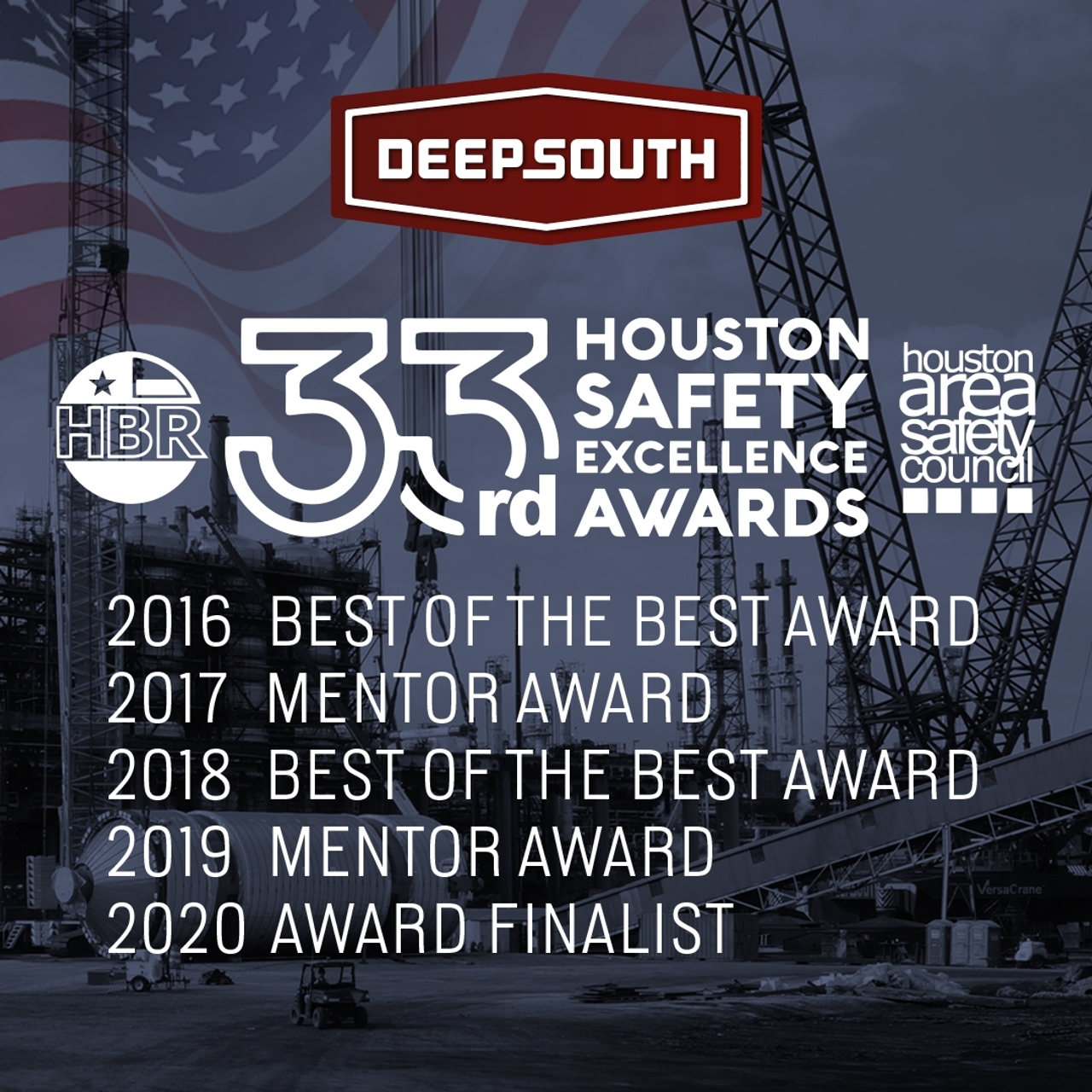 ----------
About Deep South: Deep South Crane & Rigging is a leading provider of heavy lift and transport solutions in the refining, chemical, and energy sectors and strives to provide its customers the best tools to complete the task at hand and is home of the VersaCrane fleet. The firm offers a complete range of services, from bare crane rental to turn-key heavy lift and transport solutions to clients in North and South America. It operates out of 7 locations including Baton Rouge, LA; Sulphur, LA; New Orleans, LA; Dequincy, LA; Beaumont, TX; Houston, TX; and Catlettsburg, KY. Sister company DS Americas operates out of Bogota, Colombia. Recent recognition includes 2018 Houston Business Roundtable (HBR) Best of the Best Safety Excellence Award, 2019 Mentor Award, and 2020 Finalist; 2018 Industrial Safety Training Council (ISTC) Safety Achievement Award; 2018 and 2020 Greater Baton Rouge Industry Alliance (GBRIA) Contractor Safety Excellence Award, Crane & Rigging; 2019 Greater Baton Rouge Industry Alliance (GBRIA) Workforce Development Best of Division One Award; 2018 and 2019 Specialized Carriers and Rigging Association (SCRA) Safety Award; and 2018, 2019 and 2020 Louisiana Worker's Compensation Corporation (LWCC) Safest 70.

---
You Lift Us All - A Tribute to Essential Workers
Posted:05/04/2020
In times of great challenge, real heroes never fail to go above and beyond. On behalf of the entire Deep South Crane team, we salute every healthcare professional, first responder and essential worker putting themselves at risk to care for the sick and keep us safe.
Cantilever Beam Approach Helps Ease Exchangers Into Place
Posted:04/15/2020
Deep South used a cantilever beam, which incorporates a compact counterweight design with customizable rigging attachment points, to move eight 118,000-pound exchangers into position under an existing steel structure at a refinery optimization project in the Southwest.
---