News
---
Deep South Employees Honored with SC&RA, LWCC Safety 70 Awards
Posted: 08/14/2020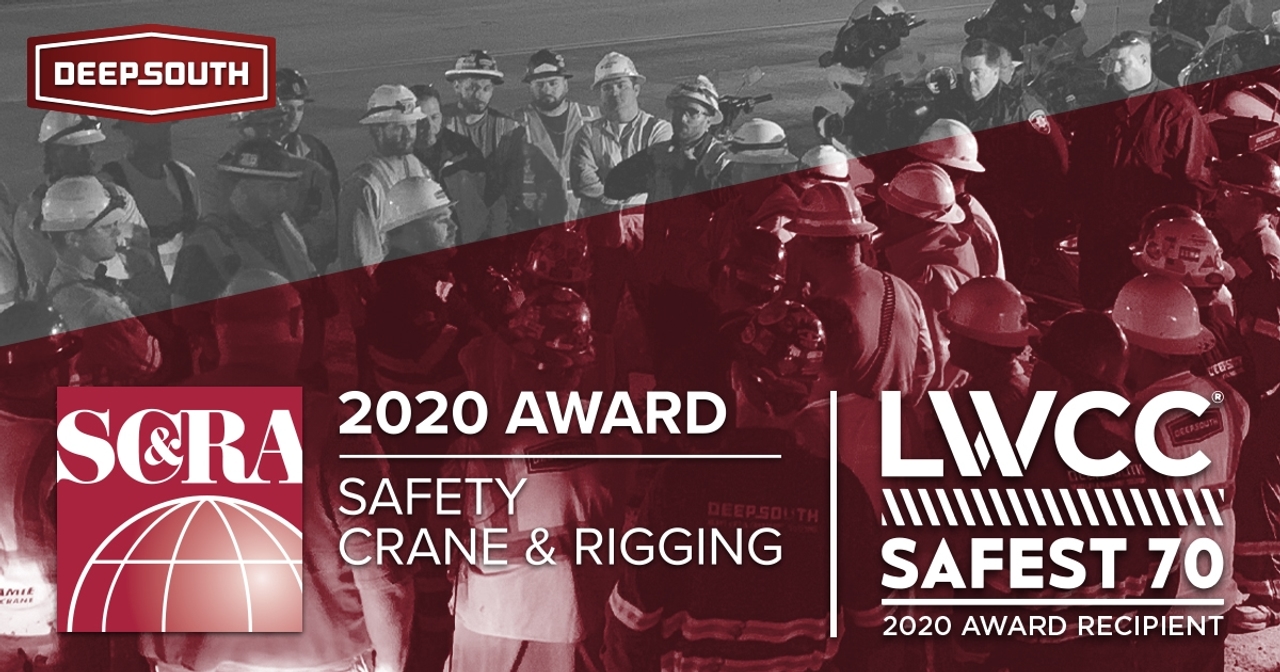 Deep South Crane & Rigging, LLC, is pleased to announce, for the third consecutive year, its acceptance of the Specialized Carriers & Rigging Association's (SC&RA) Crane & Rigging Group Safety Award and its inclusion in the Louisiana Workers' Compensation Corporation (LWCC) Safest 70 award program.
The SC&RA Group Safety Award is given to member companies with a Workers' Compensation Modification Rate of 1.0 or less; Property Damage Frequency Rate of 1.0 or less; and an incident rate of 1.7 or less, which rates are less than the industry average as reported by the U.S. Bureau of Labor Statistics. SC&RA is an international organization of more than 1,400 members from 46 nations.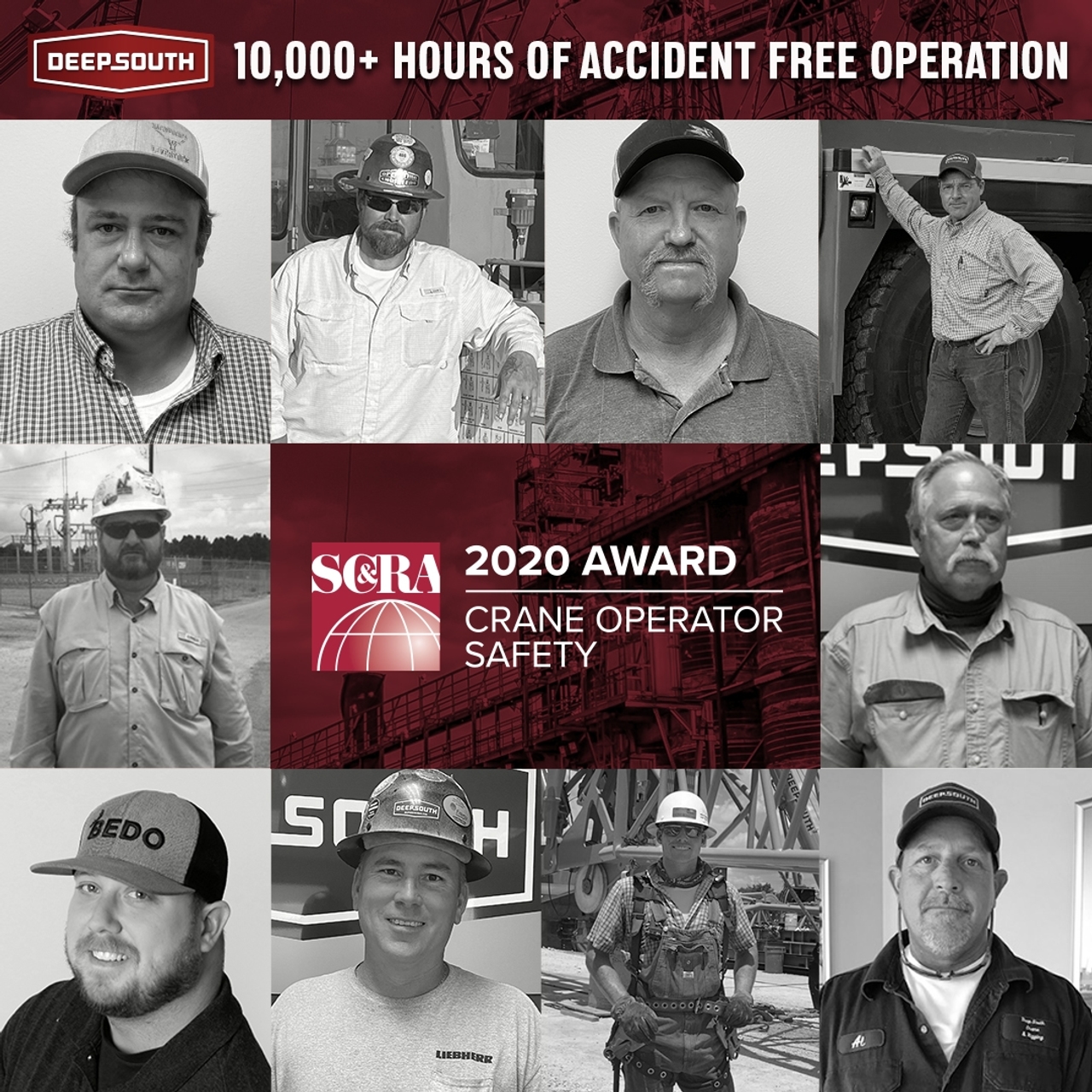 We are also pleased to announce that ten Deep South crane operators – Heath Perimon, James Dupuy, John Blankenship, Jesse Hayes, Melvin Plunkett, Robert Stephens, Trey Nobles, Matthew Broucher, Zachary White, and Alfred Stewart – received the SC&RA Crane Operator Safety Award. The SC&RA Crane Operator Safety Award is presented to crane operators who exhibit exemplary work achievements while accumulating 10,000 consecutive man hours and recording zero accidents and incidents. SC&RA will present these operators with personalized Carhartt vests to recognize these accomplishments.
"We know it takes the efforts of every employee at Deep South to get the work done safely and effectively for our customers," said Louise Landry, Safety Advisor at Deep South. "We are pleased that SC&RA gives us an opportunity to recognize the contributions of our crane operators and are proud to highlight ten employees this year from across Deep South who have demonstrated their personal commitment to working safely. This recognition is not just related to this year's work, but to many years of expertise and dedication to their craft."
The LWCC Safety 70 award program recognizes excellence, outstanding performance, and commitment to workplace safety for the top 70 of over 16,000 entities insured by LWCC. The award program acknowledges the effectiveness of the safety efforts of these 70 entities in preventing injuries and maintaining a consistent workplace safety history and their leadership in providing their employees with a safe workplace and a robust safety culture.
For more information on Deep South's safety program, please visit here.

----------
About Deep South: Deep South Crane & Rigging is a leading provider of heavy lift and transport solutions in the refining, chemical, and energy sectors and strives to provide its customers the best tools to complete the task at hand and is home of the VersaCrane fleet. The firm offers a complete range of services, from bare crane rental to turn-key heavy lift and transport solutions to clients in North and South America. It operates out of 7 locations including Baton Rouge, LA; Sulphur, LA; New Orleans, LA; Dequincy, LA; Beaumont, TX; Houston, TX; and Catlettsburg, KY. Sister company DS Americas operates out of Bogota, Colombia. Recent recognition includes 2018 Houston Business Roundtable (HBR) Best of the Best Safety Excellence Award, 2019 Mentor Award, and 2020 Finalist; 2018 Industrial Safety Training Council (ISTC) Safety Achievement Award; 2018 and 2020 Greater Baton Rouge Industry Alliance (GBRIA) Contractor Safety Excellence Award, Crane & Rigging; 2019 Greater Baton Rouge Industry Alliance (GBRIA) Workforce Development Best of Division One Award; 2018 and 2019 Specialized Carriers and Rigging Association (SCRA) Safety Award; and 2018, 2019 and 2020 Louisiana Worker's Compensation Corporation (LWCC) Safest 70.
---
Wheeled Wonders - American Cranes & Transport Feature
Posted:04/29/2020
In St. Charles Parish, LA, Deep South Crane & Rigging completed a huge vessel transport project in support of a major refinery upgrade. Key in the effort was to permit and transport five vessels from the Port of New Orleans to a St. Charles Refinery between July and December 2019.
---