News
---
Many Lifts, One Solution: Module Lift System Flexes Hydraulic Muscles During Process Plant Overhaul
Posted: 12/08/2021
Deep South crews were challenged to haul, lift, and set 84 modules, including three towers (one measuring 100' long, 350,000 lbs.), as well as various pieces of process equipment, such as piping, tanks, PDC buildings, and transformers—all within a tight schedule. Many of the modules had offset centers of gravity, further complicating the lift and set.

Conventional methods would have required using multiple sets of rigging with different length slings and several shackles to level the modules. The rigging then would have been disassembled and reassembled, making small adjustments in sling lengths or number of shackles, for every new lift—a complexity that adds too much time to an already tight schedule.
Instead, Deep South deployed its Module Lifting System with 100-ton lifting capacity, an in-house designed, engineered, fabricated, and tested system designed to set multiple objects of different widths, lengths, and centers of gravity with the same rigging.
The Module Lifting System, with its specialized spreader bars and built-in hydraulic cylinders for easy adjustments, eliminated the need for more conventional rigging systems. It incorporates two 75-ton hydraulic lift cylinders to levels loads in the transverse direction with 4'-0" adjustments and multi-holed lower modular bars equipped, each with two 55-ton hydraulic lift cylinders to level loads in the longitudinal direction with 6'-0" adjustment. With this system in place, operators connected the hydraulic lines to a power pack unit on the ground to make the length adjustments to the hydraulic cylinders, then began the lifts.
In the first phase of the project, over the course of one month, Deep South transported and set 35 modules using 18-axle-line Goldhofer E-series trailers, 18-axle-line Scheuerle SPMTs, and a 440-ton Terex-Demag CC-2400-1 crawler crane. The second phase relied on a 660-ton Liebherr LR-1600/2 crawler crane to move and set 49 modules over the course of two months. Each phase relied upon Deep South's Module Lifting System as the rigging. All moves, lifts and sets were completed on time and without incident.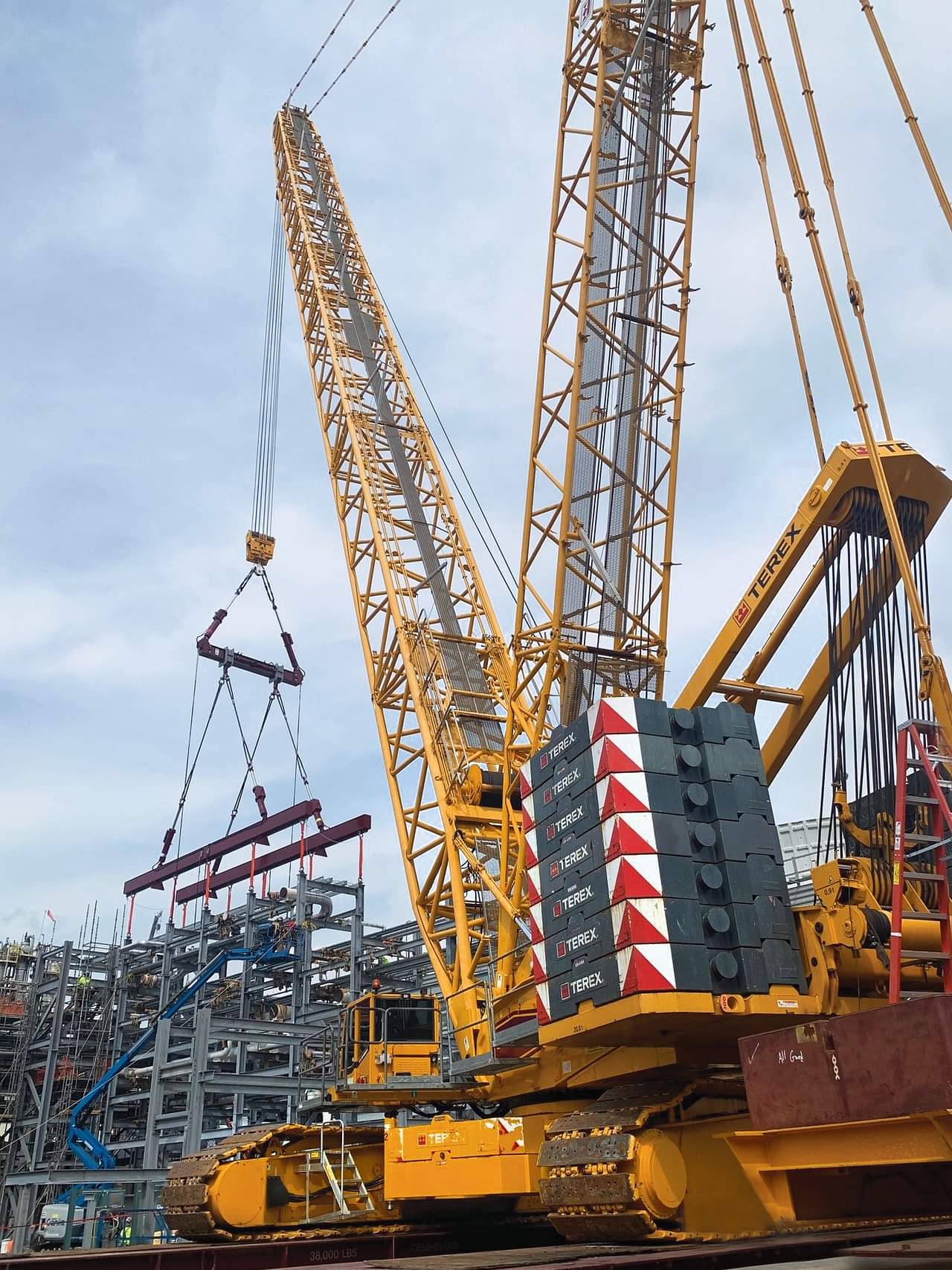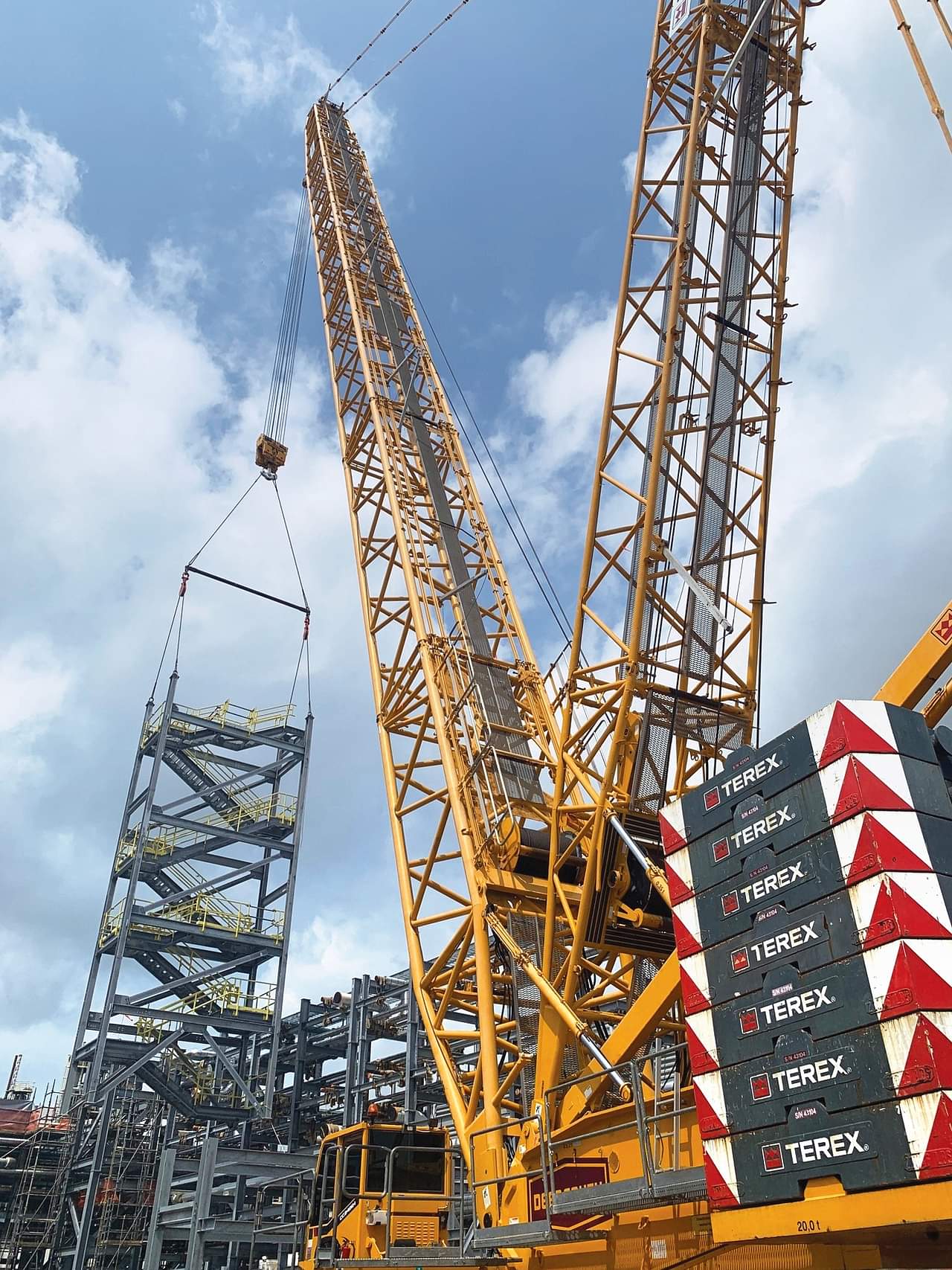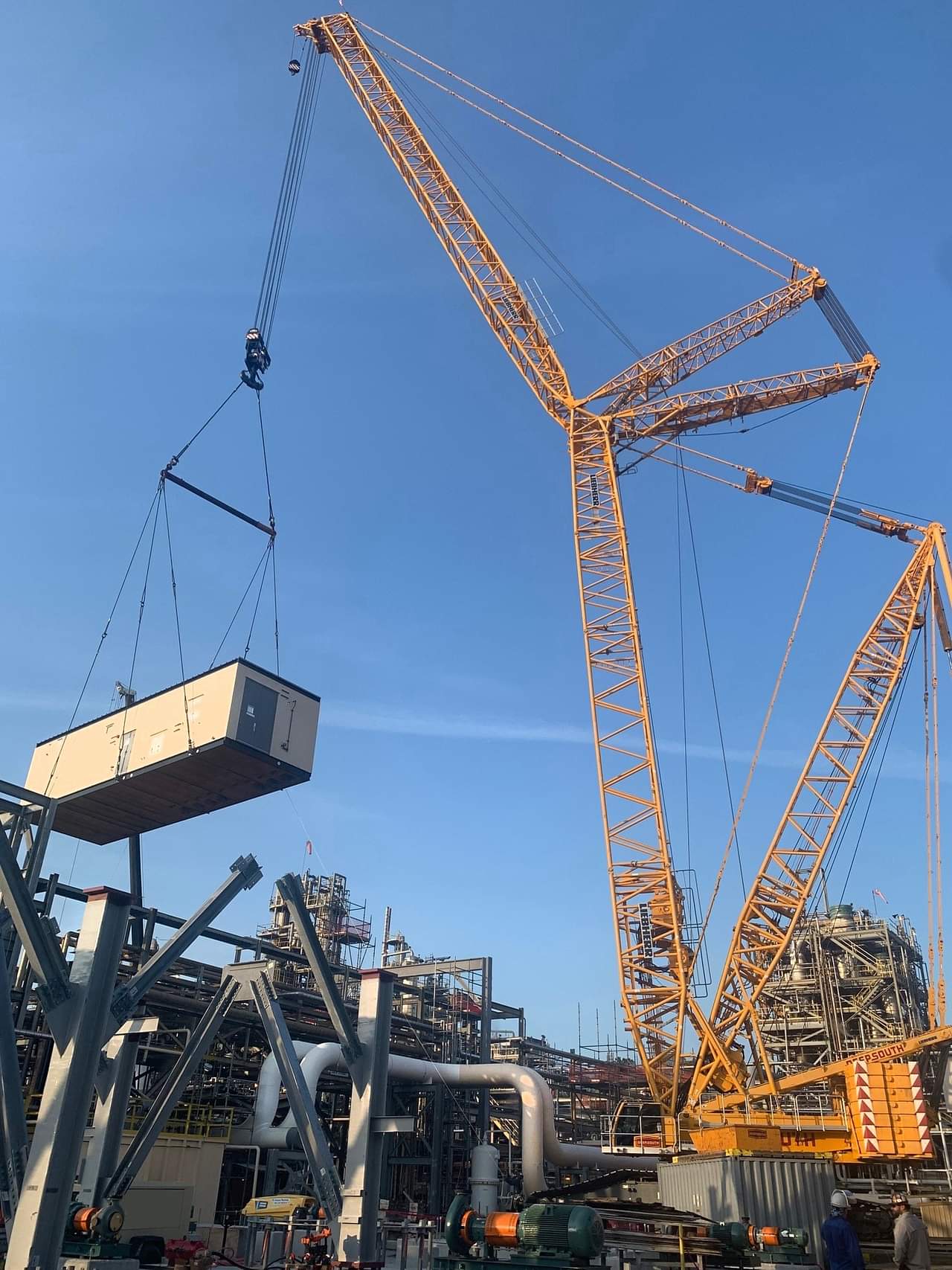 ----------
About Deep South: Deep South Crane & Rigging is a leading provider of heavy lift and transport solutions in the refining, chemical, and energy sectors and strives to provide its customers the best tools to complete the task at hand and is home of the VersaCrane fleet. The firm offers a complete range of services, from bare crane rental to turn-key heavy lift and transport solutions to clients in North and South America. It operates out of 7 locations including Baton Rouge, LA; Sulphur, LA; New Orleans, LA; Dequincy, LA; Beaumont, TX; Houston, TX; and Catlettsburg, KY. Sister company DS Americas operates out of Bogota, Colombia. Recent recognition includes 2018 Houston Business Roundtable (HBR) Best of the Best Safety Excellence Award, 2019 Mentor Award, and 2020 Finalist; 2018 Industrial Safety Training Council (ISTC) Safety Achievement Award; 2018, 2020 and 2021 Greater Baton Rouge Industry Alliance (GBRIA) Contractor Safety Excellence Award, Crane & Rigging; 2019 Greater Baton Rouge Industry Alliance (GBRIA) Workforce Development Best of Division OneAward; 2018, 2019, 2020, and 2021 Specialized Carriers and Rigging Association (SCRA) Safety Award; 2018, 2019, 2020 and 2021 Louisiana Worker's Compensation Corporation (LWCC) Safest 70); 2021 Texas Mutual Platinum Safety Partner Award; and 2021 Safety Council of Southwest Louisiana (SWLA) Silver Level Contractor Safety Performance Award.
---
Seamless Reactor Haul & Lift Keeps Refinery Upgrade on Track
Posted:11/03/2021
In St. Charles Parish, LA, Deep South Crane & Rigging completed a massive vessel transport and lift project in support of a major refinery upgrade.

The vessels included two 670,000-pound reactors that each measured 145' long, 22' wide and 22' tall; a 435,000-pound depentanizer that measured 146' long, 19' wide and 19' 6" tall; an 880,000-pound depentanizer that measured 166' long, 23' 4" tall and 22' 8" wide; and a 670,000-pound deisobutanizer that measured 221' long, 20' tall and 23' wide.
Turnaround Efficiency: Lift, Lower and Slide
Posted:07/06/2021
A major process unit turnaround (TAR) project for a petrochemical plant in the Southwest required some well-planned logistics, over 1,200 craftworkers (at peak) and a comprehensive fleet of cranes, trucks and customized skid (Jack & Slide) systems.
---