News
---
George H.W. Bush 4141 Train Arrives at Its Final Destination in College Station
Posted: 03/22/2021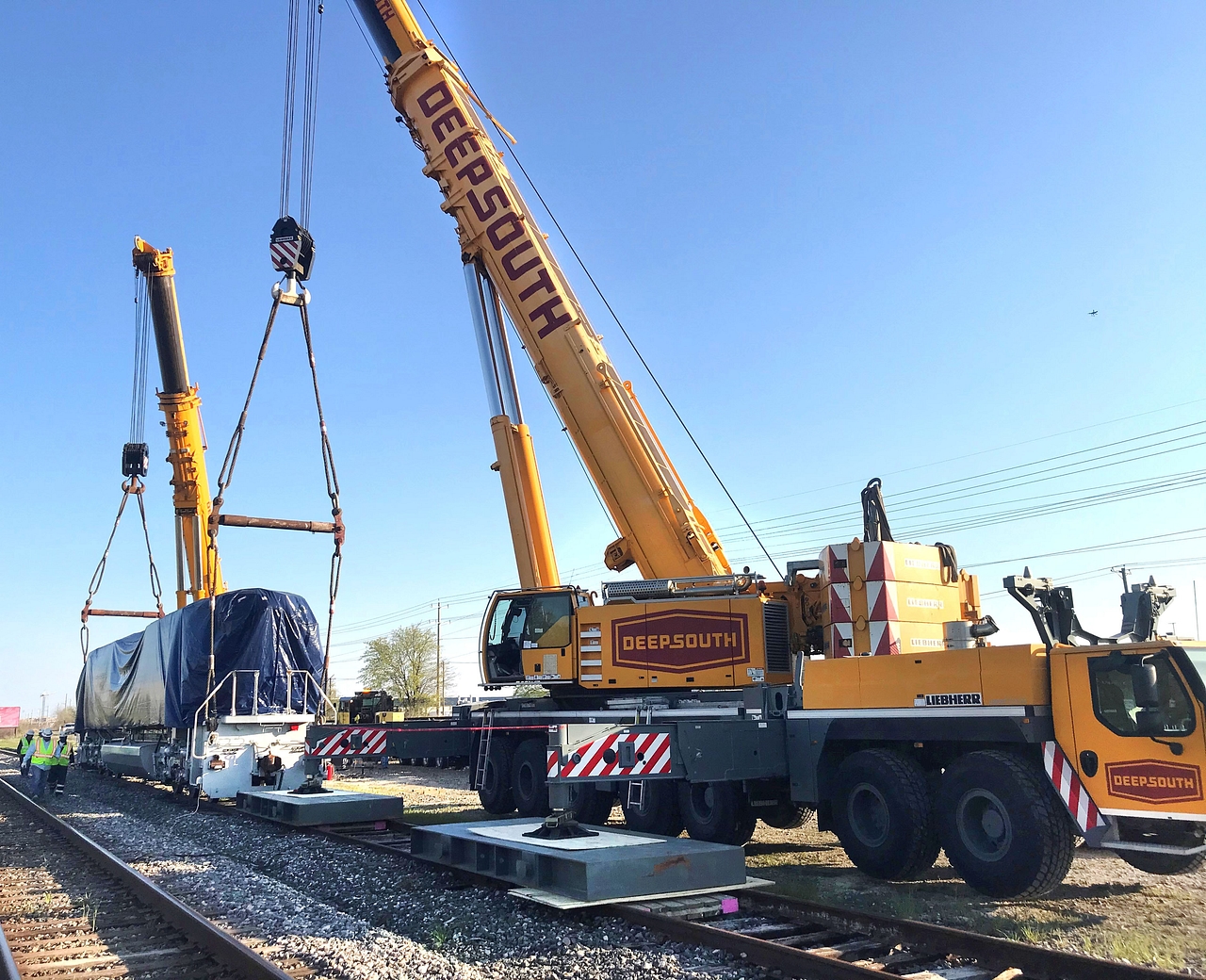 As seen on the Houston Chronicle read more here: George H.W. Bush 4141 train arrives at its final destination in College Station
With Deep South's help, Union Pacific's historic George H.W. Bush 4141 locomotive arrived at its final destination in College Station, TX. Using two 500-ton Liebherr LTM 1400-7.1 cranes, Deep South lifted the 315,000-pound locomotive off the track, where it will be permanently featured at Bush's presidential library and museum at Texas A&M University. We're proud to have helped out on this special project!
Union Pacific's historic No. 4141 train, built in honor of former President George H.W. Bush, has taken its final trip.
The iconic blue and white locomotive painted to match Air Force One will be permanently located on the grounds of Bush's presidential library and museum, according to a press release. Blanketed under a blue cover, the train was pulled into College Station by No. 1943 "The Spirit" on Sunday and lifted off the tracks by two 500-ton cranes and transported across the Texas A&M campus to the George H.W. Bush Presidential Library and Museum.
Chancellor John Sharp of the Texas A&M University System welcomed the train home. "What a historic day for our community," Sharp said. "President Bush loved trains and we love everything associated with the legacy of President Bush. Congratulations to the crew at Union Pacific, our hauling contractor and everyone at the Bush Center at Texas A&M who worked to bring 4141 home."
The No. 4141 engine led the Bush funeral train from Houston to College Station in 2018, where the former president was laid to rest next to former First Lady Barbara Bush on the library grounds. In 2019, Union Pacific announced it would donate the train built in 2005 to the museum, according to the release.
"The Texas A&M University System Board of Regents approved a $1 per-year lease which allotted two acres to expand the grounds of the museum." ABC 13 reported.
The multi-million dollar expansion is part of the George and Barbara Bush Presidential Foundation and will include exhibits for the locomotive and later a Marine One Helicopter, according to the release. Officials hope to have the expansion completed by 2024 to mark the 100th anniversary of Bush's birth.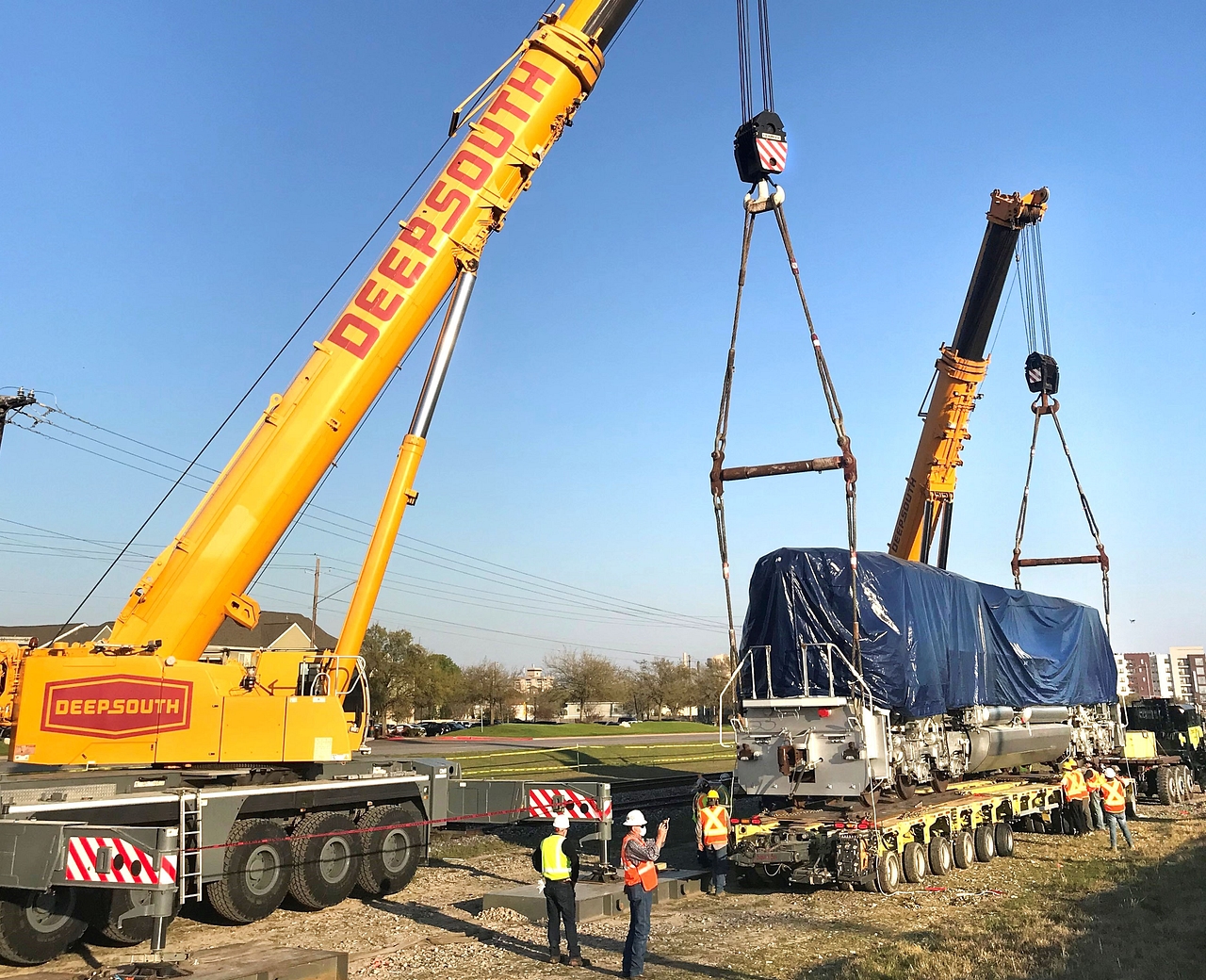 ----------
About Deep South: Deep South Crane & Rigging is a leading provider of heavy lift and transport solutions in the refining, chemical, and energy sectors and strives to provide its customers the best tools to complete the task at hand and is home of the VersaCrane fleet. The firm offers a complete range of services, from bare crane rental to turn-key heavy lift and transport solutions to clients in North and South America. It operates out of 7 locations including Baton Rouge, LA; Sulphur, LA; New Orleans, LA; Dequincy, LA; Beaumont, TX; Houston, TX; and Catlettsburg, KY. Sister company DS Americas operates out of Bogota, Colombia. Recent recognition includes 2018 Houston Business Roundtable (HBR) Best of the Best Safety Excellence Award, 2019 Mentor Award, and 2020 Finalist; 2018 Industrial Safety Training Council (ISTC) Safety Achievement Award; 2018 and 2020 Greater Baton Rouge Industry Alliance (GBRIA) Contractor Safety Excellence Award, Crane & Rigging; 2019 Greater Baton Rouge Industry Alliance (GBRIA) Workforce Development Best of Division OneAward; 2018 and 2019 Specialized Carriers and Rigging Association (SCRA) Safety Award; and 2018, 2019 and 2020 Louisiana Worker's Compensation Corporation (LWCC) Safest 70)
---
Heavy Haul Job Featured in AC&T Magazine
Posted:02/04/2021
In support of a plant upgrade, a petrochemical company in Louisiana needed to transport several large vessels from a cargo ship to their site. The weight and height of three of these vessels posed challenges for the contractor in the way of severe height restrictions from a pipe rack along a public road.
VersaCrane Line Featured in AC&T's Article "Mega Cranes Tackle Projects Around the Globe"
Posted:02/03/2021
Deep South Crane & Rigging's new, powerful 3,000-ton VersaCrane TC-36000 Series 2 is one of the largest pedestal cranes in the world. The Series 2 configuration utilizes a ring system for the auxiliary counterweight movement, keeping the ground bearing pressures suitable for most project sites. Counterweight is positioned at a 95-foot radius in the Series 2 configuration.
---