News
---
VersaCrane Line Featured in AC&T's Article "Mega Cranes Tackle Projects Around the Globe"
Posted: 02/03/2021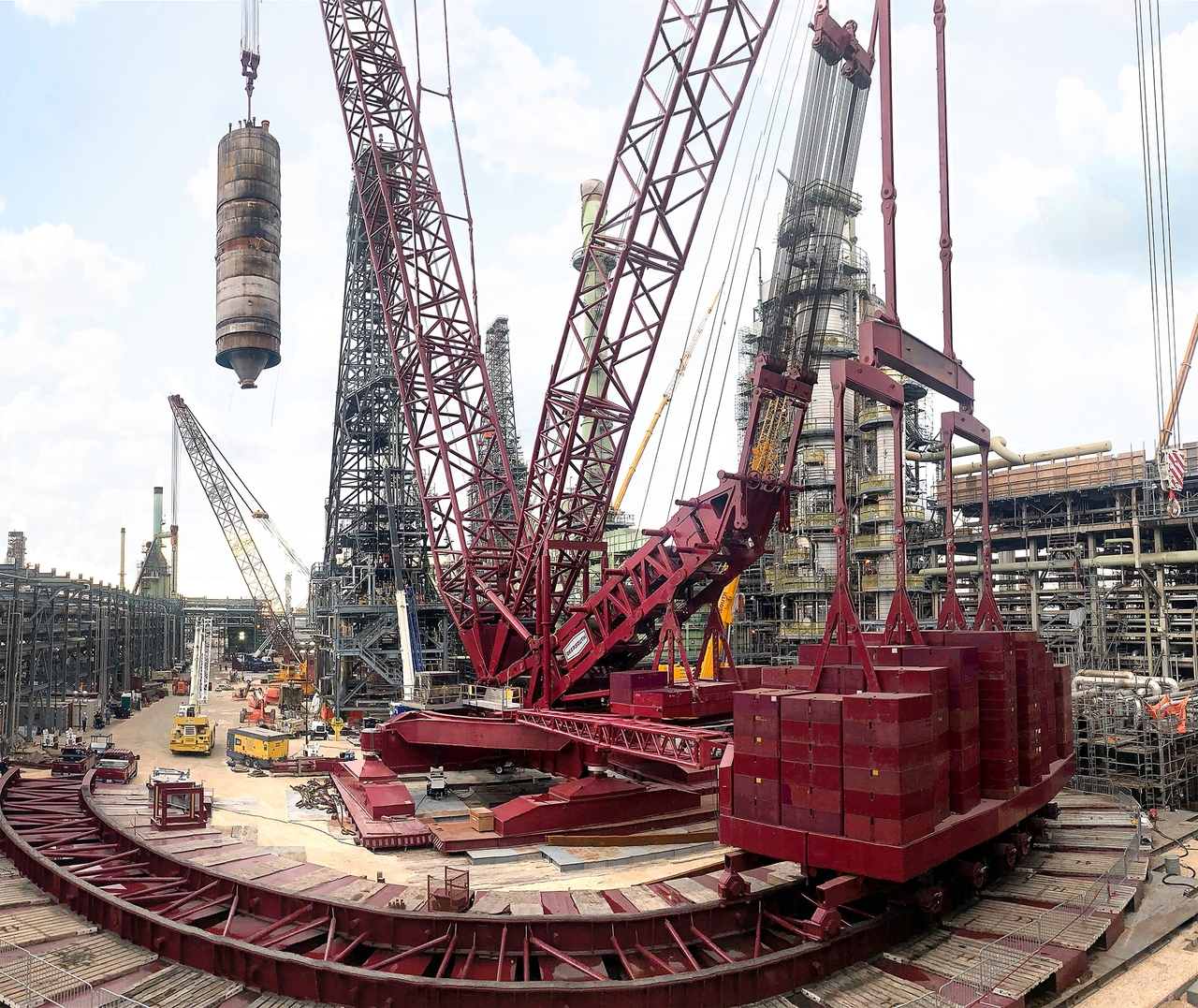 Deep South was highlighted in American Cranes & Transport magazine's feature on mega cranes. The full article follows Deep South's excerpt.
Mega cranes have been front and center in the news over the past year.

Deep South VersaCrane
Deep South Crane & Rigging's new, powerful 3,000-ton VersaCrane TC-36000 Series 2 is one of the largest pedestal cranes in the world. The Series 2 configuration utilizes a ring system for the auxiliary counterweight movement, keeping the ground bearing pressures suitable for most project sites. Counterweight is positioned at a 95-foot radius in the Series 2 configuration. Optional counterweight radius can be configured as Series 1 depending on project needs. The maximum main boom is 470 feet. Additional jib can be added to increase tip height and offset. Configured for maximum lifting capacity, the TC-36000/S2 utilizes 6,000 kips of auxiliary counterweight.
Deep South has been producing its VersaCrane line since the late 1980s. Today, the company has in its fleet the 3,000-ton capacity VersaCrane TC-36000/S2 and the 2,500-ton VersaCrane TC-36000/S1.
Deep South's VersaCranes can maintain high capacity while fitting in confined spaces and providing industry-leading low ground bearing pressures. VersaCranes use steel distribution beams to spread outrigger loads over a greater area. In most cases, these cranes can maintain a ground bearing pressure below 2,500 PSF.
"The VersaCrane line has a unique ability to safely build over pipe racks and other obstacles," said Deep South's Jeremy Landry. "The hinge counterweight system gives the crane more capacity without substantially increasing the tail swing radius. The counterweights act as a second main counterweight tray, allowing the crane, once at an appropriate radius, to disconnect the super-lift counterweights and swing the minimum tail swing radius without losing load capacity."
Using Deep South's years of heavy transportation experience, the VersaCrane line can be safely relocated using SPMTs.
"Our intricate knowledge of these cranes allows us to make job-specific crane modifications based on the needs of the job," Landry said. "This allows Deep South to reduce tail swing radii or create new configurations based on the specific needs of your job site.
"All VersaCrane components are engineered and manufactured at our Baton Rouge, Louisiana facility by a team of certified engineers and experienced craftsman," said Landry.
Complete line-up
The complete VersaCrane line ranges from 750 tons capacity to 3,000 tons capacity and includes both pedestal/outrigger and crawler cranes. VersaCrane models also include the 3,000-ton TC-36000 Series 2 2,500-ton TC-36000 Series 1, 1,800-ton TC-28000, 1,500-ton TC-24000, 1,000-ton TC-12000, 1,000-ton CC-12000 and the 750-ton CC-9600.
"Our mega cranes are known for heavy lifting in confined spaces while maintaining industry-leading ground bearing pressures of 2,500 PSF or lower (depending on site conditions) while maintaining high capacities," said Landry. "This is particularly important to mitigate underground obstacles and low ground capacity, such as that in coastal areas, often without the need for pilings."
The VersaCrane is designed to be erected with a small footprint. The largest mega crane's ring system uses its own drive motors to slew during operation. The track for the ring does not have to be a complete circle for the crane to perform. It only needs enough track for the intended swing radius.
"The wire rope size has been increased, which gives us better line pull capacity, and the winches were upgraded to accommodate bigger rope and line pull capacity," said Landry. "The first 250 feet of boom were strengthened. Because of the increased size, the boom was created with a pin system so it can be transported over the road and within DOT regulations. This allowed us to increase the strength of the crane while allowing it to travel as the Series 1 does, all the while, we are still able to meet low ground bearing requirements and maintain a small footprint."
The crane's first job was a two-part coker change-out. There were two back-to-back turnarounds in which the crane was completely relocated in between the two phases. The crane picked 1,600,000 pounds at a 260-foot radius. This lift was performed while maintaining a ground bearing pressure under 2,000 PSF (even for the counterweight system). No piling or elaborate foundation was needed.
This crane has been tested to meet all ASME and ANSI standards, Landry said. A third-party company documented the tests and certified that the tests were performed to the correct standards.
"For now, this model is our biggest," said Landry. "Our engineering team continues to evaluate ways to better serve our customer base, including continuing to evaluate improvements to our VersaCrane fleet. At this time, the overall crane market is uncertain due to the pandemic's effect on the economy, and this has affected the mega crane market as well."

---
Heavy Haul Job Featured in AC&T Magazine
Posted:02/04/2021
In support of a plant upgrade, a petrochemical company in Louisiana needed to transport several large vessels from a cargo ship to their site. The weight and height of three of these vessels posed challenges for the contractor in the way of severe height restrictions from a pipe rack along a public road.
New VersaCrane TC-36000/S2 makes lifting debut - AC&T Feature
Posted:10/27/2020
For more than 50 years, Deep South Crane & Rigging has been distinguishing itself throughout North America. Founder Camile Landry has an intense appreciation for cranes, and he has always been intrigued by projects that require a higher level of skill and expertise. In the 1980s, he saw a need for a new generation of cranes. He envisioned a high-capacity crane with a smaller footprint and a tighter tail swing. He wanted to see a crane that could be transported easier than other heavy lift cranes.
---