News
---
A Flare for Efficiency
Posted: 04/12/2023
Routine maintenance plant turnarounds are typically anything but straightforward—as a turnaround in the Southeast quickly demonstrated. The effort called for the removal and replacement of three exchangers, as well as a flare modular replacement. The size and location of the exchangers, the tight window for replacement of the flare, and localized high working-wind speeds were a few of the top challenges that the Deep South team were tasked to overcome.
The complete unit turnaround included the replacement of three exchangers—two on 12'-tall foundations and weighing 359,700 pounds each and one located 43' above grade weighing 140,000 pounds—as well as a new 300' tall, 125,000-pound flare.

All Jacked Up
The exchangers were hauled into position using a Goldhofer THP-DL "Dual Lane" transporter and a 24-axle-line Scheuerle SPMT. Because an overhead structure prevented more conventional lifting methods, the exchangers were removed and replaced using a custom-fabricated jack-and-slide method.
The two larger 359,700-pound exchangers were removed and replaced using 55-ft slide rails that were placed on top of the 12-ft-tall foundations and on support stands [not pictured]. One at a time, crews lifted each exchanger onto the slide and moved them into position under the existing structures with a 750-ton VersaCrane CC-9600 crawler crane. The removal and replacement of both of these exchangers took about 14 shifts in total.
The smaller 140,000-pound exchanger was removed and replaced in a very tight area with overhead obstructions using 80-ft slide rails supported by the unit structure and a 43-ft tall Mabey Tower System. First, Deep South built the Mabey Tower System outside of the unit. Deep South then lifted the jack and slide rails into place alongside the exchanger's foundation and assembled 60-ton Rolling Jacks with header beams to lift the exchanger so it could be extracted from under the deck. There was no room for a traditional jacking method. Once the exchanger was successfully slid into place, where it was free to be lifted out the unit, Deep South lifted it from the slide rails and flew it to grade using a 500-ton Liebherr LTM1400-7.1. A new exchanger was set in the unit using the same method in reverse. The removal and replacement of this exchanger also required about 14 shifts.
The Critical Path
Assembling, transporting and lifting the new 300' tall, 125,000-pound flare proved especially challenging for the crews due to the limited surface area, the wind-sail effect common in flare construction, and the critical path schedule. The flare was the last item to come offline and the first component that needed to be operational before the entire unit could start back up.
Deep South crews assembled the new flare on pre-turnaround. First, they removed two sections of the existing flare during the turnaround and replaced them with the new module and then set the flare tip.
The team then used a 1,500-ton VersaCrane TC-24000 and a 1,320-ton Terex-Demag AC-1000 to remove and replace the old flare with the new modular flare system, including valves, drums, pumps, and headers. The TC-24000's high working wind speed capabilities were particularly beneficial during the lifting process.
The entire turnaround project was completed safely, on time, and in accordance with the customer's specifications.
----------
About Deep South: Deep South Crane & Rigging is a leading provider of heavy lift and transport solutions in the refining, chemical, and energy sectors and strives to provide its customers the best tools to complete the task at hand and is home of the VersaCrane fleet. The firm offers a complete range of services, from bare crane rental to turn-key heavy lift and transport solutions to clients in North and South America. It operates out of 7 locations including Baton Rouge, LA; Sulphur, LA; New Orleans, LA; Dequincy, LA; Beaumont, TX; Houston, TX; and Catlettsburg, KY. Sister company DS Americas operates out of Bogota, Colombia. Recent recognition includes 2018 Houston Business Roundtable (HBR) Best of the Best Safety Excellence Award, 2019 Mentor Award, and 2020 Finalist; 2018 Industrial Safety Training Council (ISTC) Safety Achievement Award; 2018, 2020 and 2021 Greater Baton Rouge Industry Alliance (GBRIA) Contractor Safety Excellence Award, Crane & Rigging; 2019 Greater Baton Rouge Industry Alliance (GBRIA) Workforce Development Best of Division OneAward; 2018, 2019, 2020, and 2021 Specialized Carriers and Rigging Association (SCRA) Safety Award; 2018, 2019, 2020 and 2021 Louisiana Worker's Compensation Corporation (LWCC) Safest 70); 2021 Texas Mutual Platinum Safety Partner Award; and 2021 Safety Council of Southwest Louisiana (SWLA) Silver Level Contractor Safety Performance Award.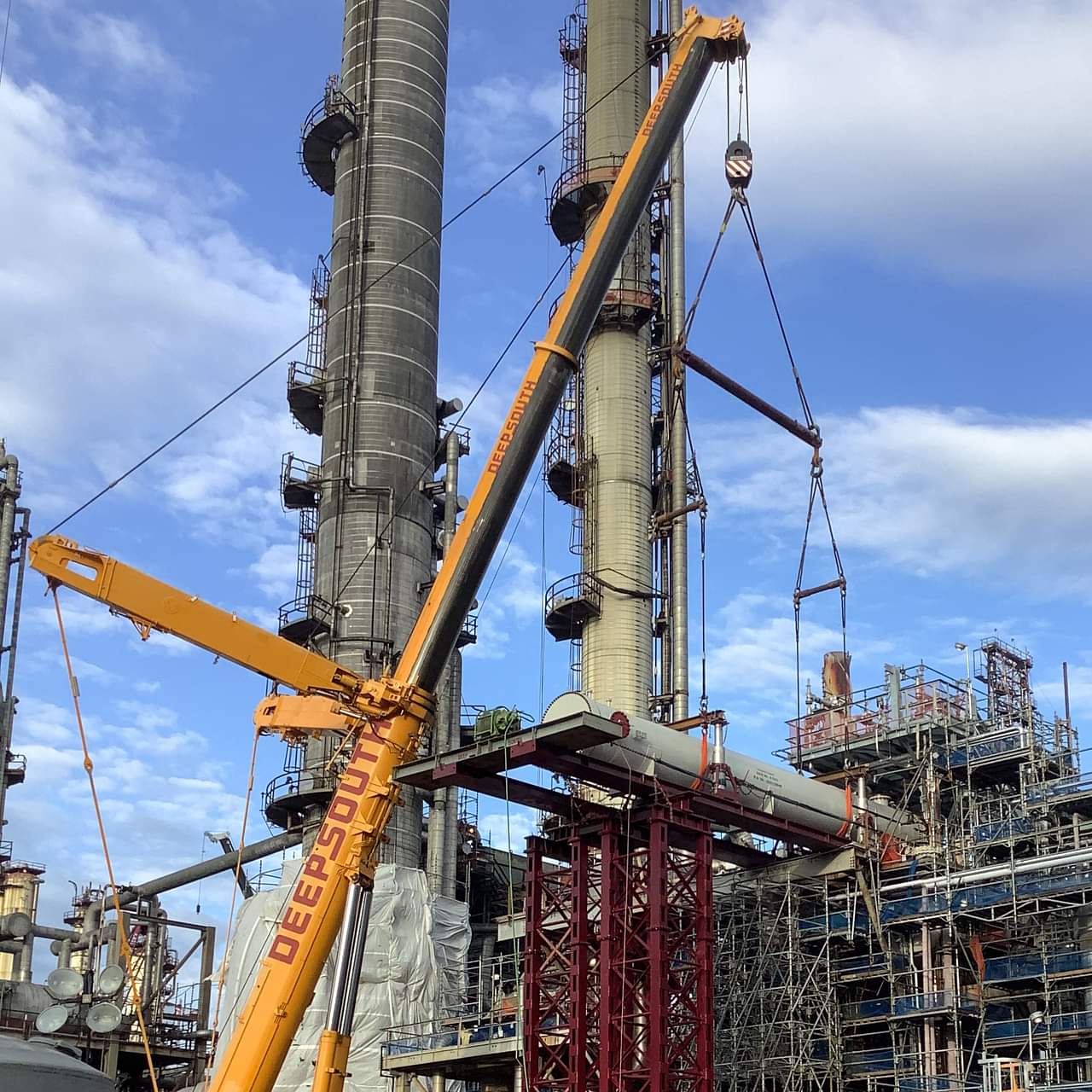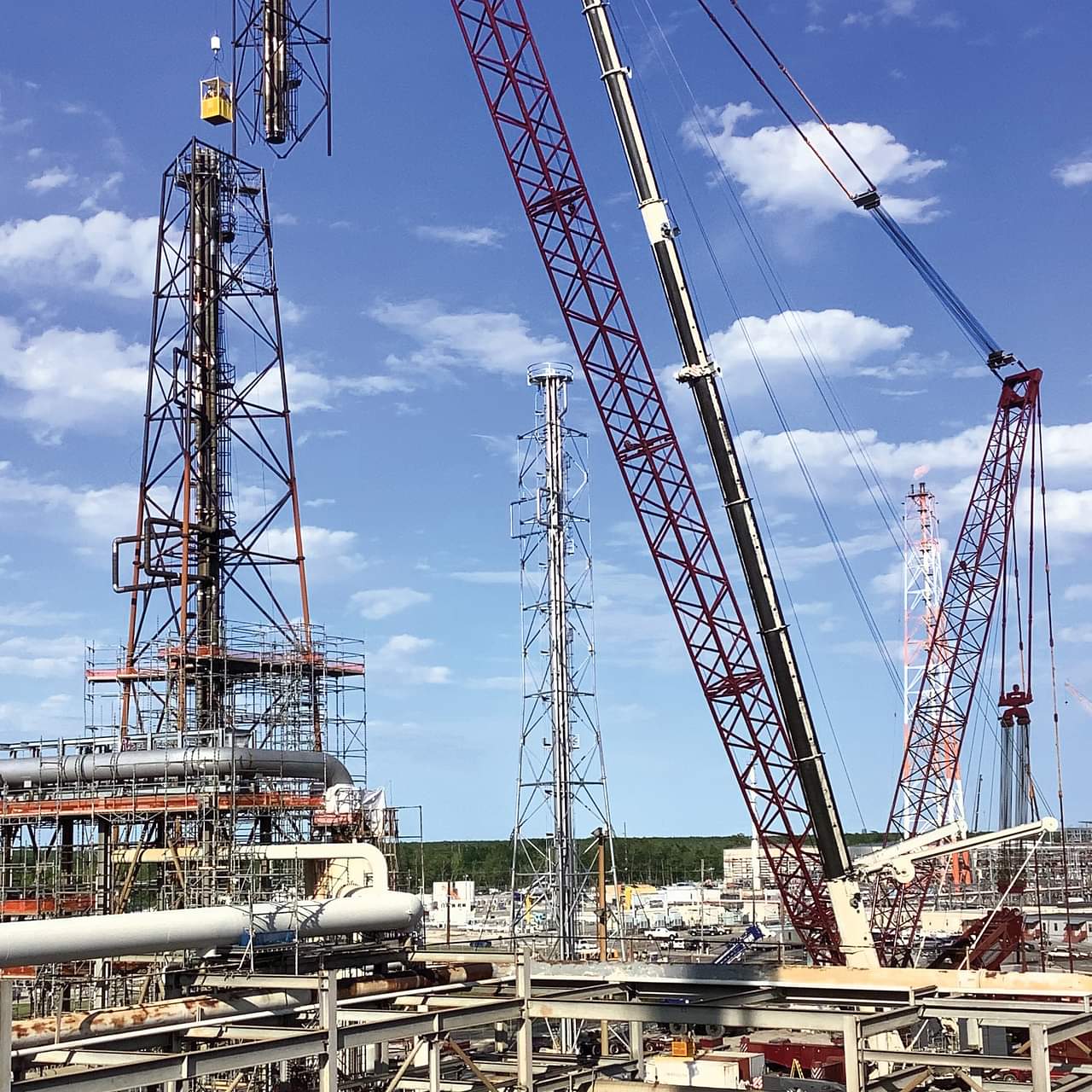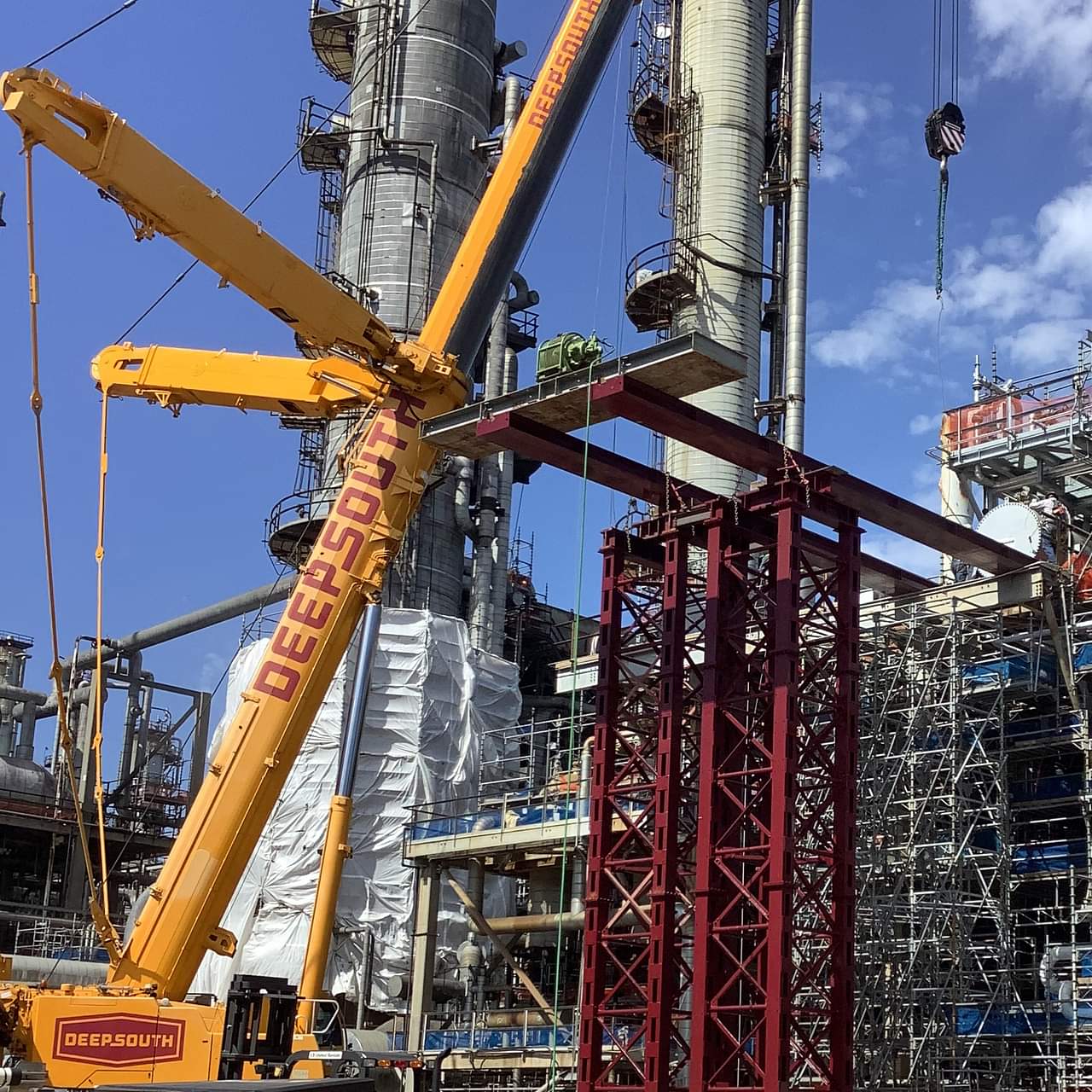 ---
A Technical Towering Roll, Move and Lift
Posted:05/16/2023
As part of a complex project for a refinery, the Deep South team was tasked with receiving, transporting and lifting a 114'-7" x 33'-5" x 39'-10" vacuum tower weighing in excess of one million pounds. This multi-step project required considerable planning, technology and creative thinking.
Safety Source: Food Handling Safety
Posted:05/09/2023
Food handling safety is a critical aspect of ensuring that the food we consume is safe and healthy for us. According to the Centers for Disease Control and Prevention (CDC), foodborne illnesses affect one in six Americans each year. These illnesses can be caused by harmful bacteria, viruses, and other pathogens that are commonly found in food. Therefore, it is essential to know the basics of safe food handling, from storing to preparing and serving.
---