News
---
Go Small to Gain Big: Transport Optimized for Efficient Transport
Posted: 07/14/2021
When an oil & gas customer needed help transporting a new oxygen tank from Texas to a gas facility in South Carolina, the options seemed costly and complex.
Deep South's logistics specialists took a custom approach to the transport of a 375,000-lb oxygen tank from road to rail to plant, saving time and money for the client.
Initially, the 108' long, 12'6" diameter tank was self-loaded onto an 8-axle-line Scheuerle SPMT modified with wooden saddles and moved to a nearby rail spur, where it was lifted with a 500-ton gantry system onto the railcar. The wooden saddles were particularly beneficial in that crews were able to use a shorter transporter (i.e., 8 axles versus 16 or 18 axles), and they were able to self-load the tank onto the transporter without the gantries.
After traveling by rail from Texas to the South Carolina-based plant, the tank arrived with Deep South's crew ready and waiting to offload. Once again the 500-ton gantry was used to move the tank from railcar to the specialized 8-axle-line transporter equipped with the custom saddles. The SPMT moved the tank into the staging area for final installation.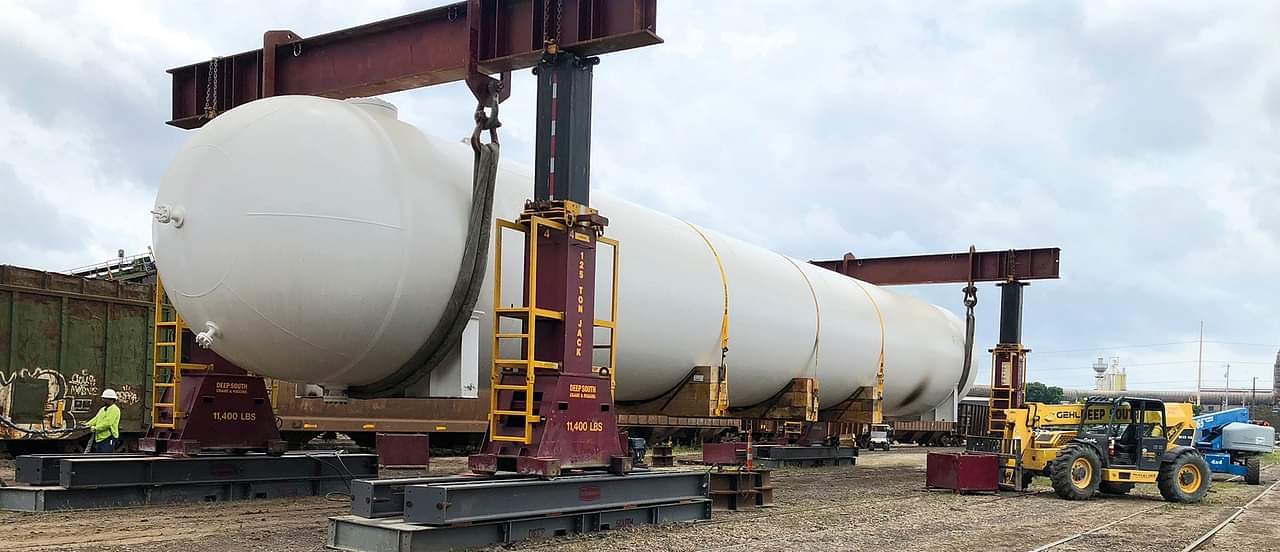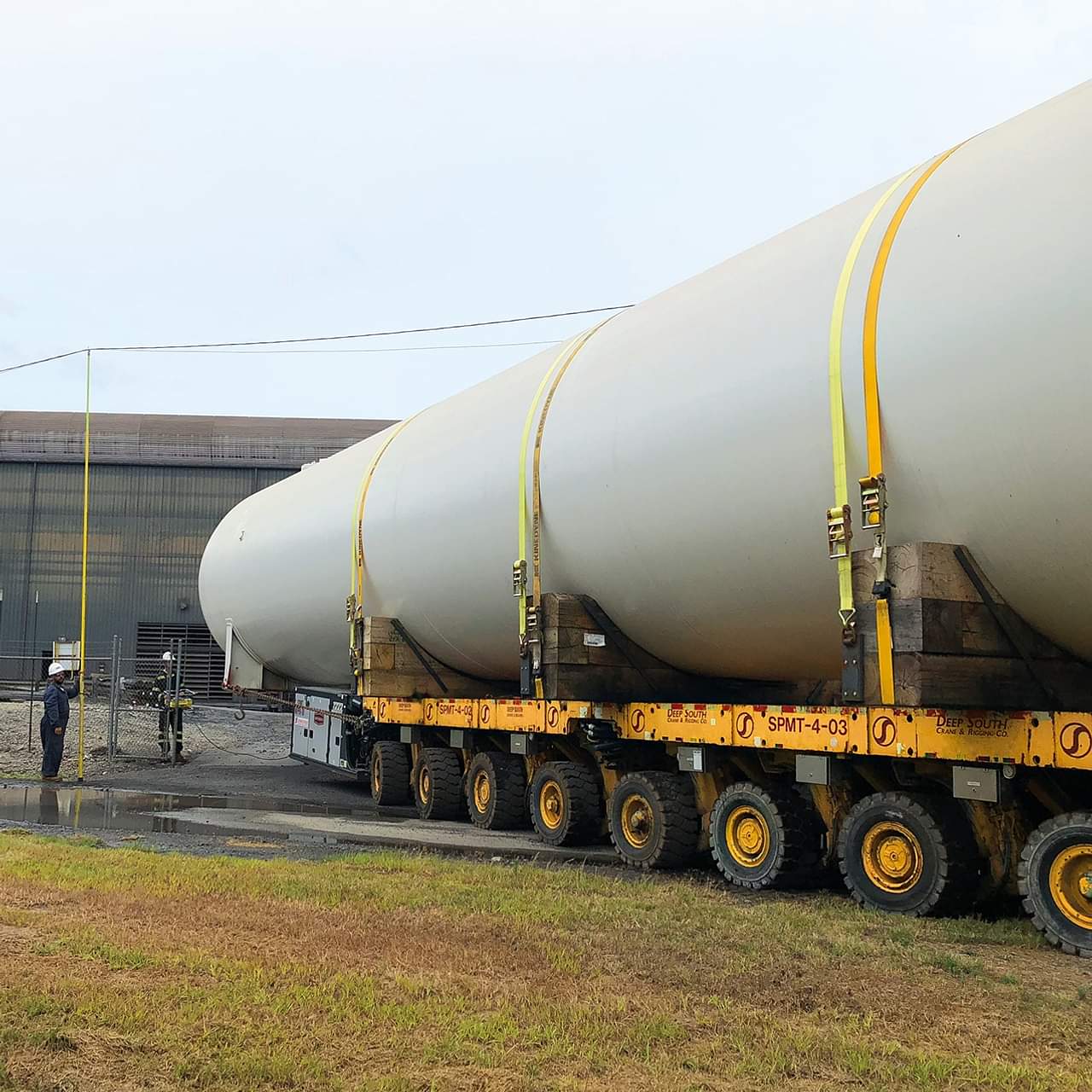 ----------
About Deep South: Deep South Crane & Rigging is a leading provider of heavy lift and transport solutions in the refining, chemical, and energy sectors and strives to provide its customers the best tools to complete the task at hand and is home of the VersaCrane fleet. The firm offers a complete range of services, from bare crane rental to turn-key heavy lift and transport solutions to clients in North and South America. It operates out of 7 locations including Baton Rouge, LA; Sulphur, LA; New Orleans, LA; Dequincy, LA; Beaumont, TX; Houston, TX; and Catlettsburg, KY. Sister company DS Americas operates out of Bogota, Colombia. Recent recognition includes 2018 Houston Business Roundtable (HBR) Best of the Best Safety Excellence Award, 2019 Mentor Award, and 2020 Finalist; 2018 Industrial Safety Training Council (ISTC) Safety Achievement Award; 2018, 2020 and 2021 Greater Baton Rouge Industry Alliance (GBRIA) Contractor Safety Excellence Award, Crane & Rigging; 2019 Greater Baton Rouge Industry Alliance (GBRIA) Workforce Development Best of Division OneAward; 2018, 2019, 2020, and 2021 Specialized Carriers and Rigging Association (SCRA) Safety Award; 2018, 2019, 2020 and 2021 Louisiana Worker's Compensation Corporation (LWCC) Safest 70); 2021 Texas Mutual Platinum Safety Partner Award; and 2021 Safety Council of Southwest Louisiana (SWLA) Silver Level Contractor Safety Performance Award.
---
A Technical Towering Roll, Move and Lift
Posted:05/16/2023
As part of a complex project for a refinery, the Deep South team was tasked with receiving, transporting and lifting a 114'-7" x 33'-5" x 39'-10" vacuum tower weighing in excess of one million pounds. This multi-step project required considerable planning, technology and creative thinking.
Safety Source: Food Handling Safety
Posted:05/09/2023
Food handling safety is a critical aspect of ensuring that the food we consume is safe and healthy for us. According to the Centers for Disease Control and Prevention (CDC), foodborne illnesses affect one in six Americans each year. These illnesses can be caused by harmful bacteria, viruses, and other pathogens that are commonly found in food. Therefore, it is essential to know the basics of safe food handling, from storing to preparing and serving.
---