Seamless Reactor Haul & Lift Keeps Refinery Upgrade on Track
By the Numbers
Transport and Lift the Core Components of an Alkylation System:
Two 670,000 lb. Reactors
880,000 lb. and 435,000 lb. Depentanizers
670,000 lb. Deisobutanizer
In St. Charles Parish, LA, Deep South Crane & Rigging completed a massive vessel transport and lift project in support of a major refinery upgrade.

The vessels included two 670,000-pound reactors that each measured 145' long, 22' wide and 22' tall; a 435,000-pound depentanizer that measured 146' long, 19' wide and 19' 6" tall; an 880,000-pound depentanizer that measured 166' long, 23' 4" tall and 22' 8" wide; and a 670,000-pound deisobutanizer that measured 221' long, 20' tall and 23' wide.
For the transport, crews had to permit and transport five vessels from the Port of New Orleans to a St. Charles Refinery.
Developing acceptable transport configurations and permitting through the Louisiana Department of Transportation and Development (LADOTD) for the vessel moves took close to a year. The Deep South team further coordinated with utilities to plan multiple line lifts and transmission outages with the U.S. Army Corps of Engineers to acquire permits for the barge roll off.
Barge Roll Off
Deep South received the vessels on barges and rolled off at the West Bonnet Carre Spillway dock. Once off the barge, the vessels were transported 3.6 miles to a lay down area in Louisiana, where they were lifted using Deep South's 800-ton VersaCrane gantries and 700-ton J&R gantries and trailers. All the vessels, except for the largest depentanizer, were transported to the plant using Scheuerle SPMT transporters and Goldhofer PST/SLE-E transporters.
The biggest challenge was the move of the 880,000-pound depentanizer across the 38'-wide Bonnet Carre Spillway bridge and under an existing 24' 6" pipe rack to the plant, a distance of 4.5 miles. The transport team relied on nine 8-line Scheuerle SPMT systems in an open compound configuration to divide the load evenly across a bridge.
Saddled Up
Custom notched saddles allowed the depentanizer to be lowered from a transport height of 30' 2" for the bridge crossing to below 24' 6" on split transporters, thus facilitating the move under the pipe rack – with just inches to spare.
"We used nine trailers to move the depentanizer across the 38-foot spillway bridge," said Deep South's Chris Warshaw. "The configuration was 34 feet wide and 160 feet long, leaving only 2 inches on each side."
After crossing the bridge, the Deep South team removed the center trailers and lowered the vessel to cross under the pipe rack.
"This operation reduced the five-lane U.S. 61 highway to two lanes overnight," said Warshaw. "We completed the move to the plant the following day."
Deep South coordinated with local authorities to implement a traffic control plan throughout the transport operation to reduce congestion during the travel.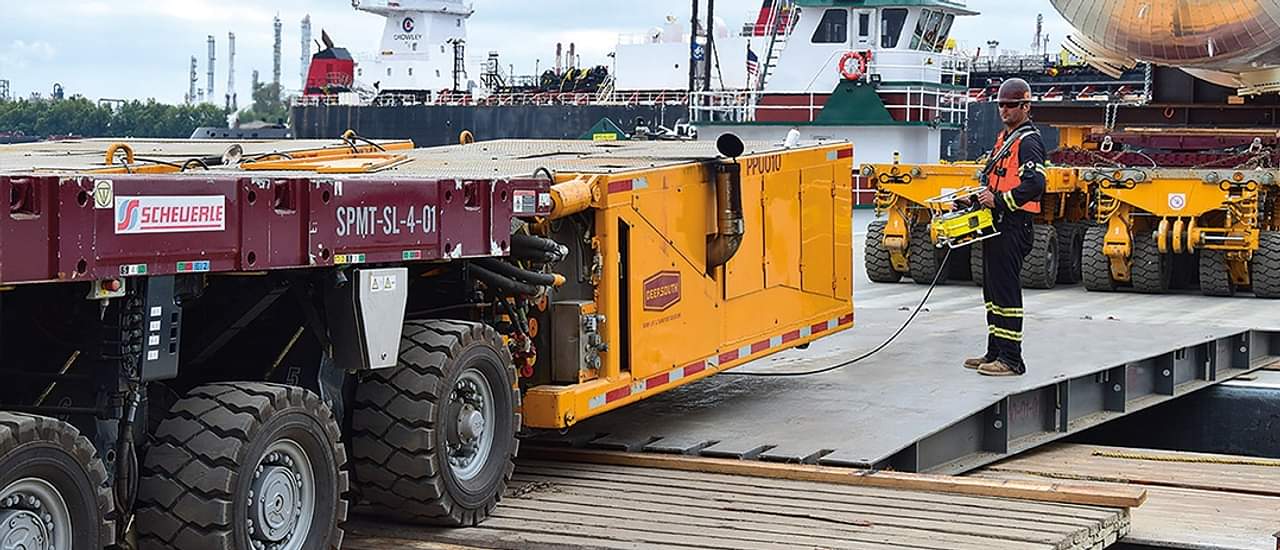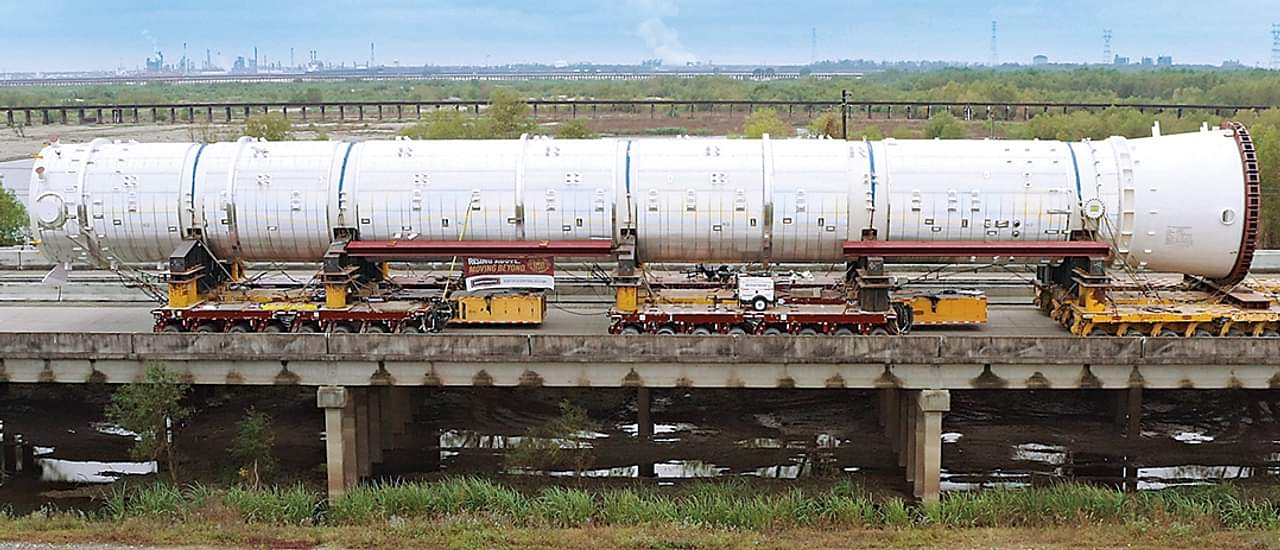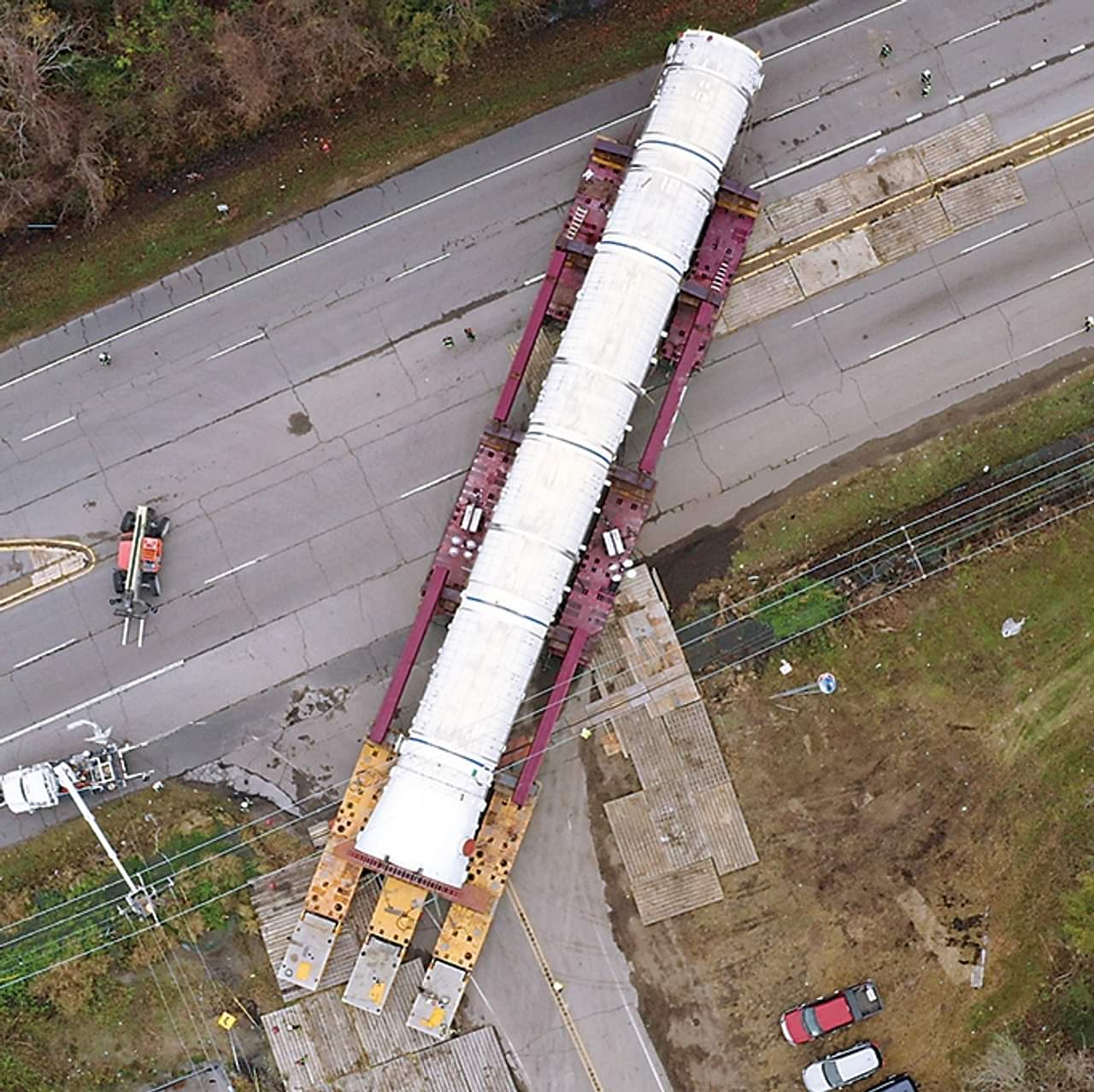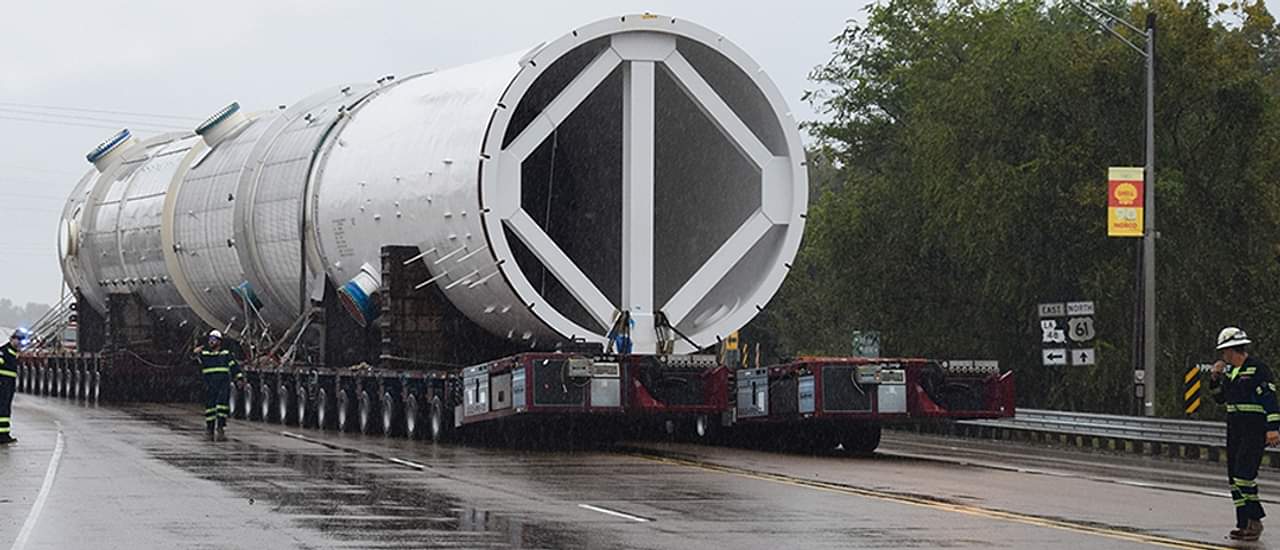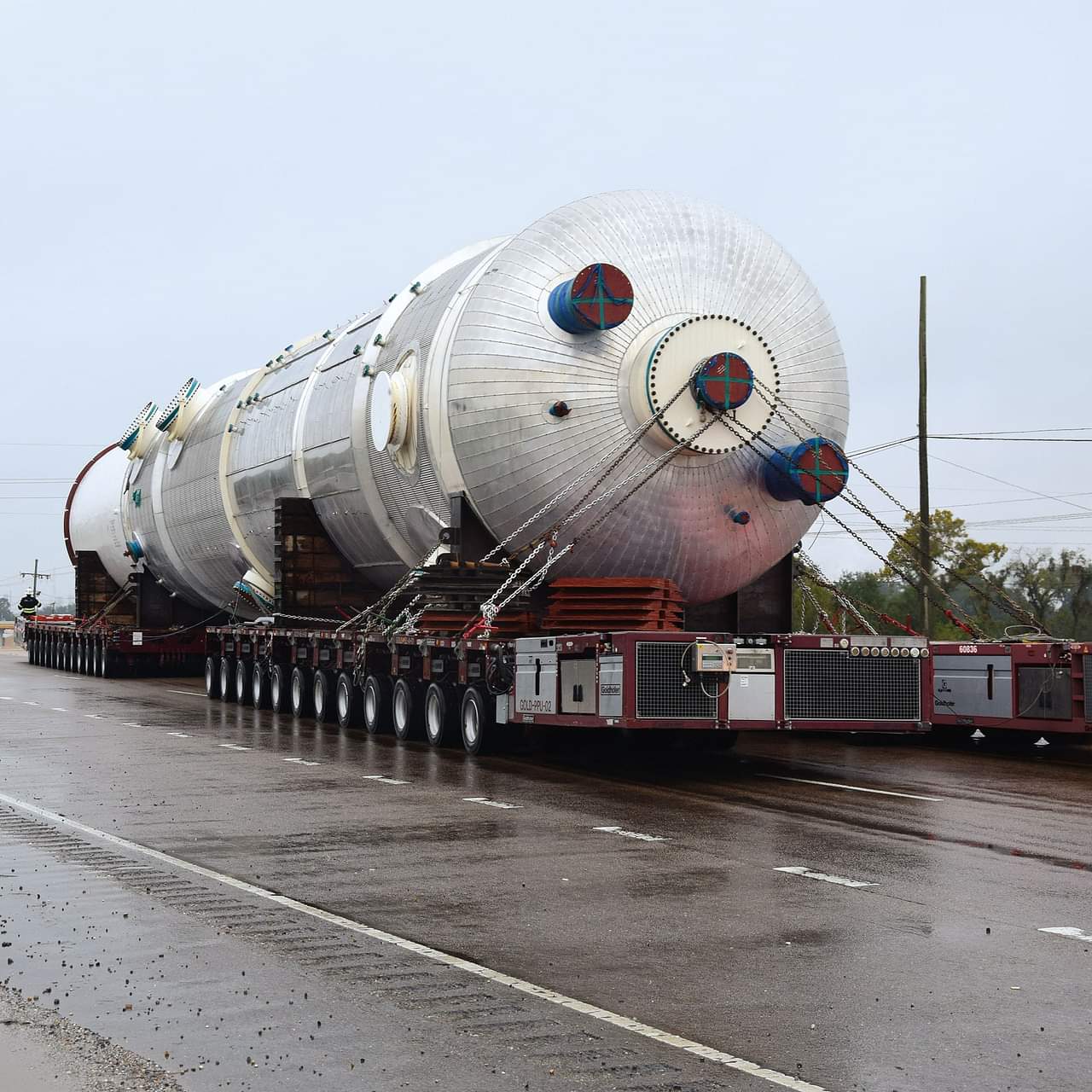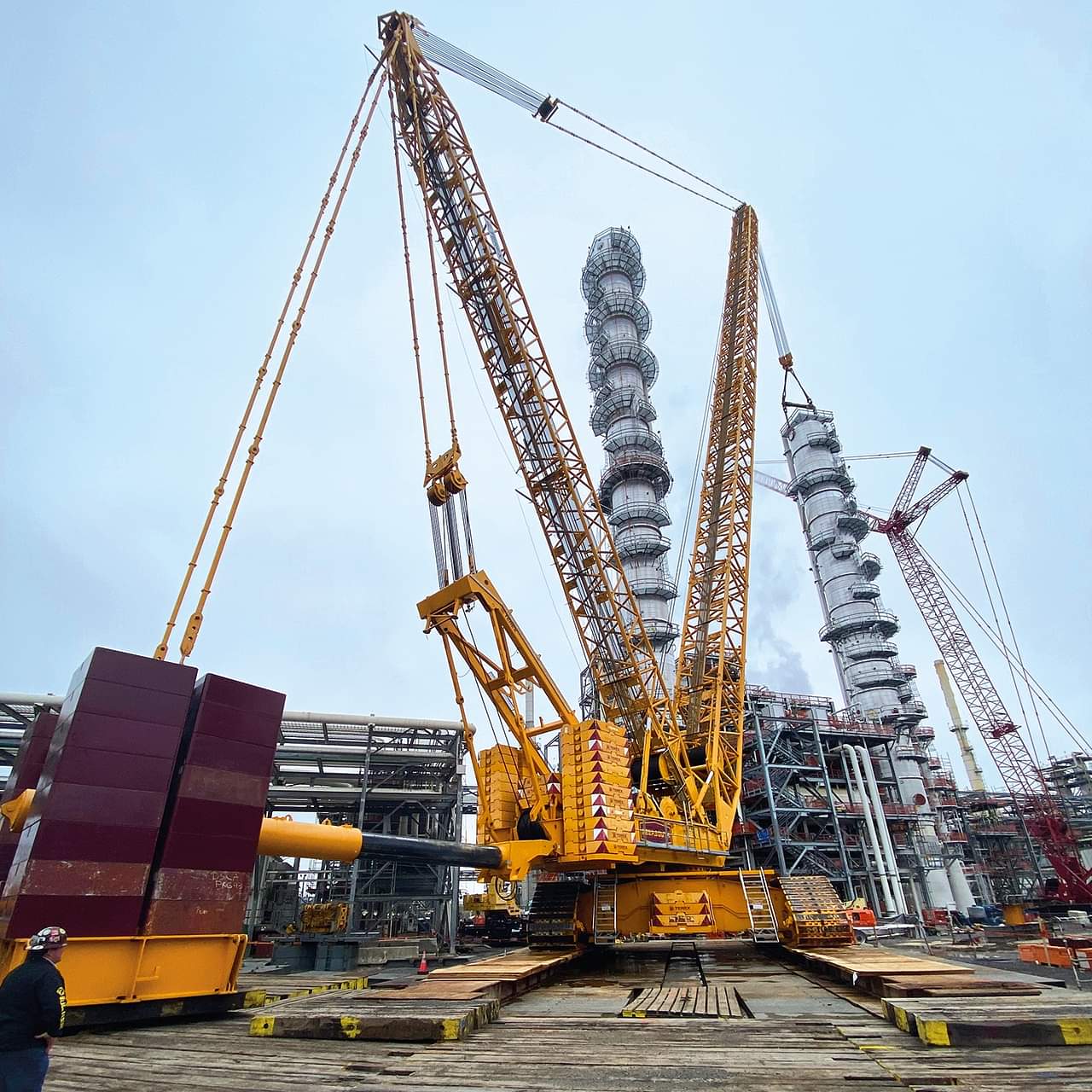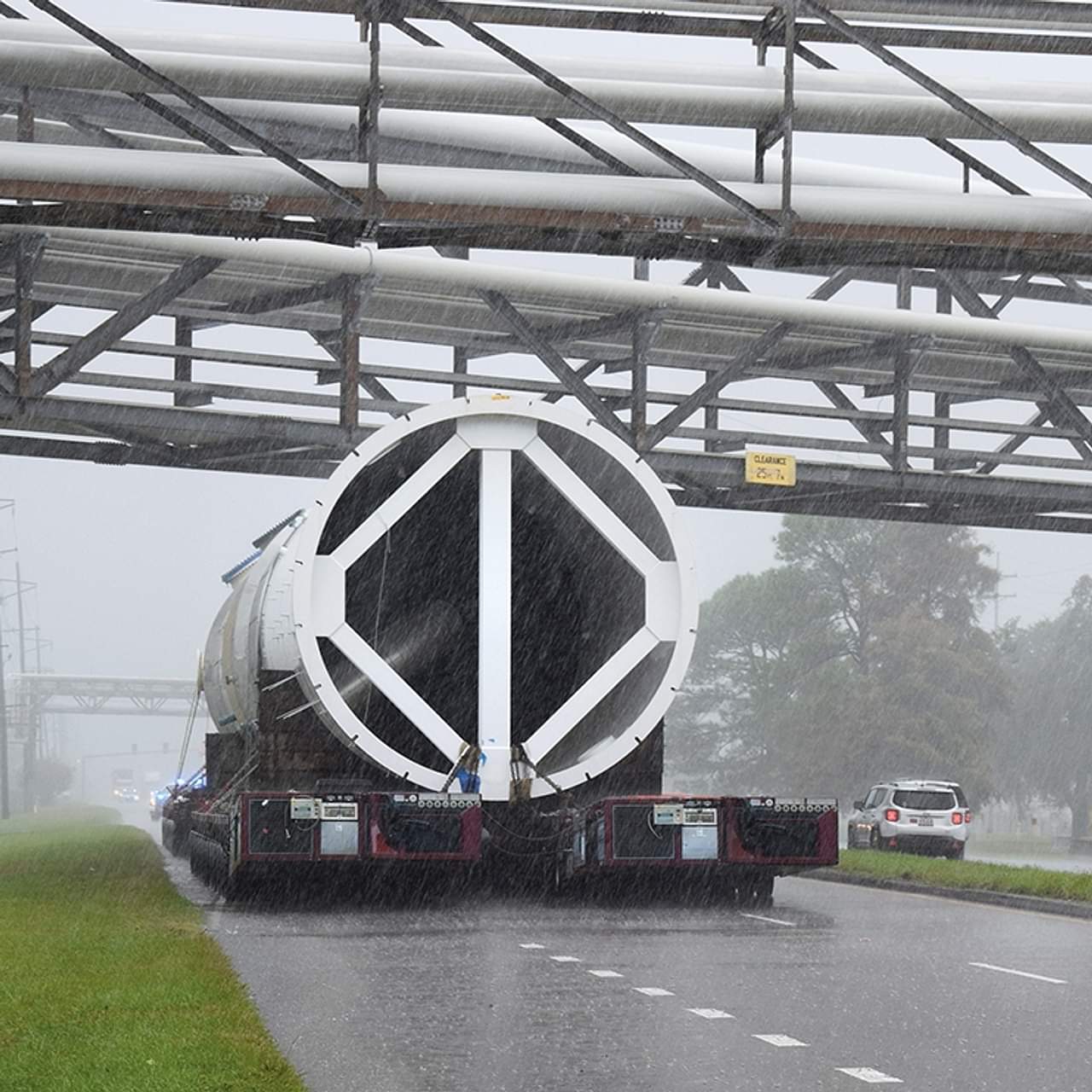 Constrained Conditions
With tight space constraints (less than 18" of crane tail swing) and low allowable ground bearing pressure, Deep South's team had to use all of its extensive knowledge and technology.
The two reactors were moved into position with a 1,000-ton VersaCrane CC-12000 crawler crane. Then a 12-line doublewide SPMT and a VersaCrane SPMT Tailing Frame were used to upright two vessels, allowing for complete dress out before setting.
The remaining three vessels were set using a 1,760-ton Terex CC8800-1 crawler crane. A 12-line doublewide SPMT and a VersaCrane SPMT Tailing Frame were used to upright the two depentanizers, allowing for complete dress out before setting. The third section tailed with a 500-ton Liebherr LTM1400-7.1 crane.
In both cases, crews used a combination of steel matting and moment connection bridge ramps to meet the site allowable ground bearing pressure. They also designed and fabricated custom lift links and lift bails.