Chemical Plant Expansion Gets Big Lift from Deep South
By the Numbers
Largest Module:
492,000 pounds
110' long by 45' wide by 52' tall
Upon completion, the Tiger AO4 expansion project at Shell's Geismar Chemical Plant in Ascension Parish, Louisiana, will add an additional 425,000 tons of capacity to the facility—making it the largest alpha olefins producer in the world. Alpha olefins are used to produce household detergents, plastics, synthetic lubricants, and drilling fluids, among other useful products.
Tiger AO4 is a complex expansion that includes the fabrication, movement and installation of large, often heavy, process equipment including reactors, columns, vessels and pre-assembled modules. The Deep South team, working closely with Turner Industries and Jacobs Engineering, helped keep the expansion on track to begin commercial production by end of 2018 with its comprehensive jack, transport and lift experience and equipment.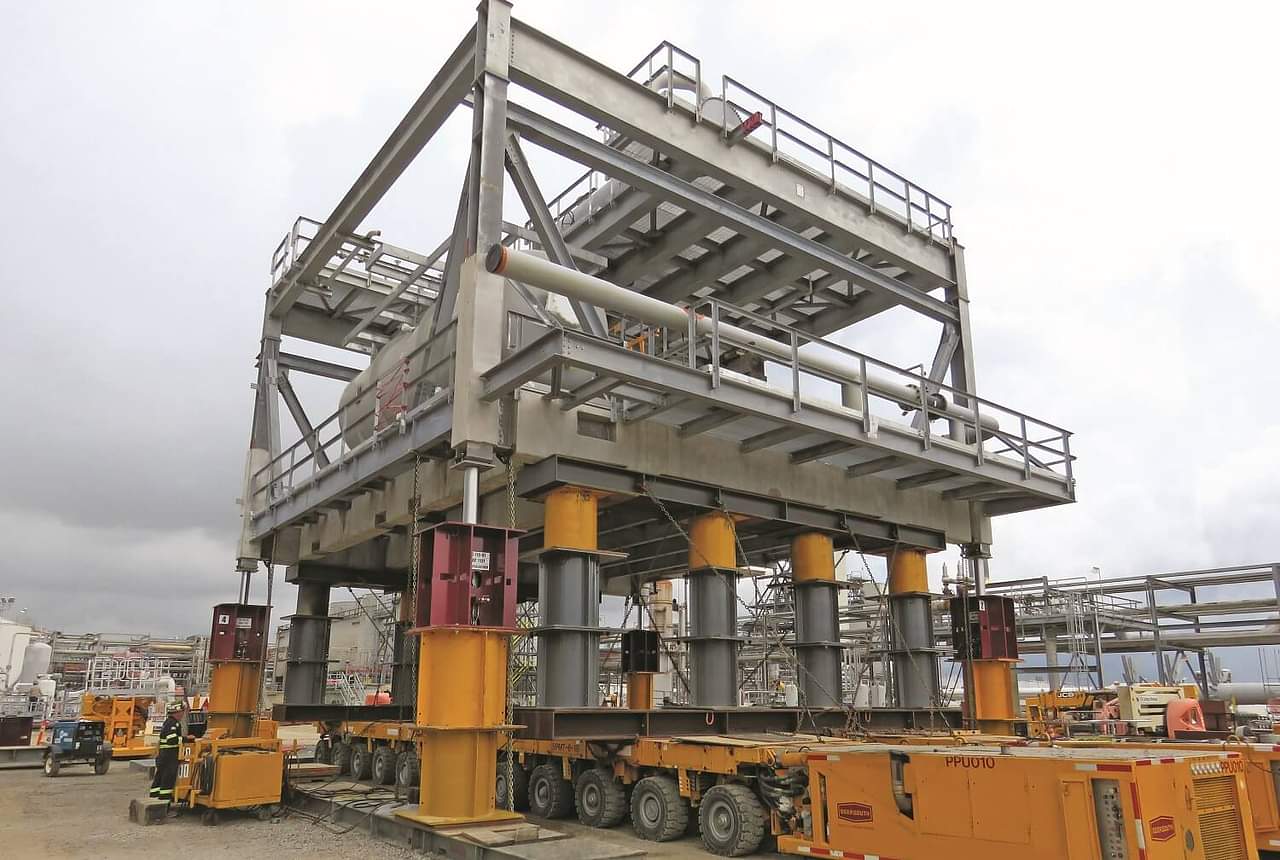 Modular Movement
A critical part of the expansion was the movement of seven unwieldy pre-fabricated modules that facilitate the alpha olefins production process. The largest module weighed 492,000 pounds and measured 110' long by 45' wide by 52' tall.
Deep South used its customized jacking can system to lift and transport the modules over 12' off the ground in order to clear their concrete supports. Another part of the scope included lifting nine pipe rack modules using the 500-ton Liebherr LTM 1400-7.1 mobile crane with an attached 7-spreader bar rigging system.
The team also used a 1400-ton Terex-Demag CC-6800-1 with 315' main boom in super lift mode to lift and set large vessels. The largest vessel was 246' in length and weighed 619,000 pounds, that was set at a 75' radius.
Two Cranes - One Lift
Another key milestone in the expansion project was the lift and placement of a very tall (215') high purity C6 distillation column, a key component of the AO production process.
The team positioned two cranes--an Liebherr LR 1200 crawler crane and Demag CC-6800 hydraulic crawler crane—on either end of the column. The cranes lifted the column horizontally out of the saddles to begin the complex lift. With tight coordination, the Demag CC-6800 crane hoisted the top of the column vertically as the LR 1200 crawler crane held the bottom end of the column steady and crawled forward toward the Demag CC-6800 until the tower was in a vertical position.
Jeremy Marler, structural steel/equipment superintendent with Turner Industries, said, "We came together as a group—Turner Industries, Deep South, Jacobs and Shell—and cleared out a block (of space on the site), and everything went off without a hitch."