News
---
Deep South Ranks 10th in ACT100 Index
Posted: 07/10/2018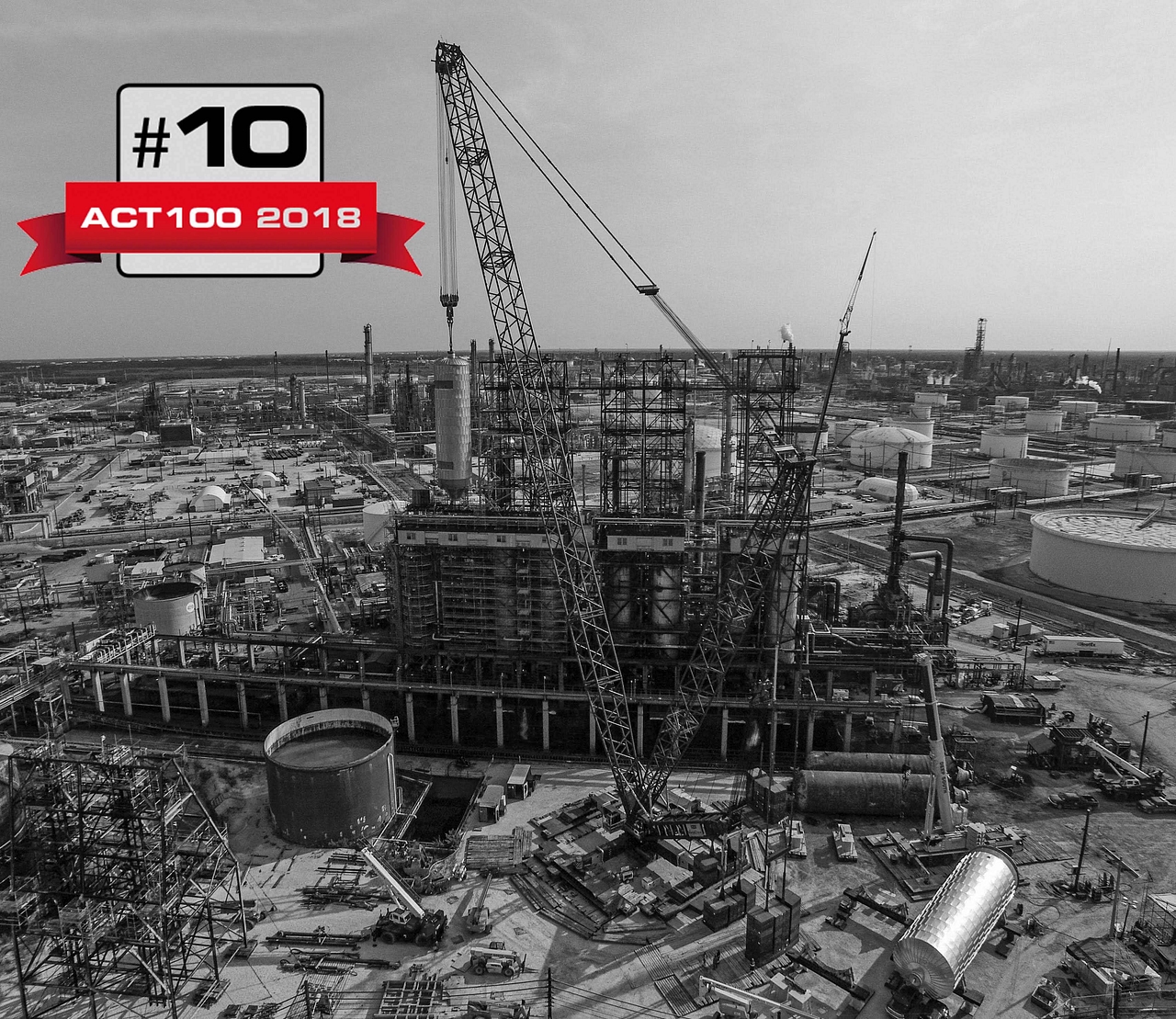 American Cranes & Transport magazine's 2018 ACT100 Index of North America's top 100 crane companies

Deep South Crane & Rigging climbed to the #10 crane company in the American Cranes and Transport Index, growing its fleet in 2017 to 246 mobile cranes and 24 crawler cranes. Deep South previously ranked #12.

The ACT100 Index is calculated by adding the maximum lifting capacities in U.S. tons of all crawler cranes and mobile cranes in a company's fleet. Overall, the ACT100 Index grew from 2,365,977 to 2,495,860 US tons in 2017, with the addition of higher capacity cranes, new companies and growth of existing companies.

About Deep South

Deep South Crane & Rigging is a leading provider of heavy lift and transport solutions in the refining, chemical, and energy sectors and strives to provide its customers the best tools to complete the task at hand. The firm offers a complete range of services, from bare crane rental to turn-key heavy lift and transport solutions to clients in North and South America. It operates out of 8 locations including Baton Rouge, LA; Sulphur, LA; New Orleans, LA; Dequincy, LA; Beaumont, TX; Houston, TX; Westville, IN; and Catlettsburg, KY. Sister company DS Americas operates out of Bogota, Colombia. Recent recognition includes 2018 HBR Best of the Best Safety Excellence Award; 2018 ISTC Safety Achievement Award; 2018 GBRIA Contractor Safety Excellence Award, Crane & Rigging; 2018 Specialized Carriers and Rigging Association Safety Award; and 2018 LWCC Safest 70.
---
Deep South Celebrates 50 Years of Customer-focused Success
Posted:03/28/2018
2018 is a milestone year for Deep South Crane. Fifty years after hardworking electrical engineer Camile Landry saw an opportunity to make a go of his own business, Deep South is now among the top 20 crane heavy lift, heavy haul companies in the world, operating nine offices throughout North and South America. As we celebrate a half-century in business, we couldn't be prouder of what our people have accomplished and the future they're paving for us.
---
​