News
---
Deep South Celebrates 50 Years of Customer-focused Success
Posted: 03/28/2018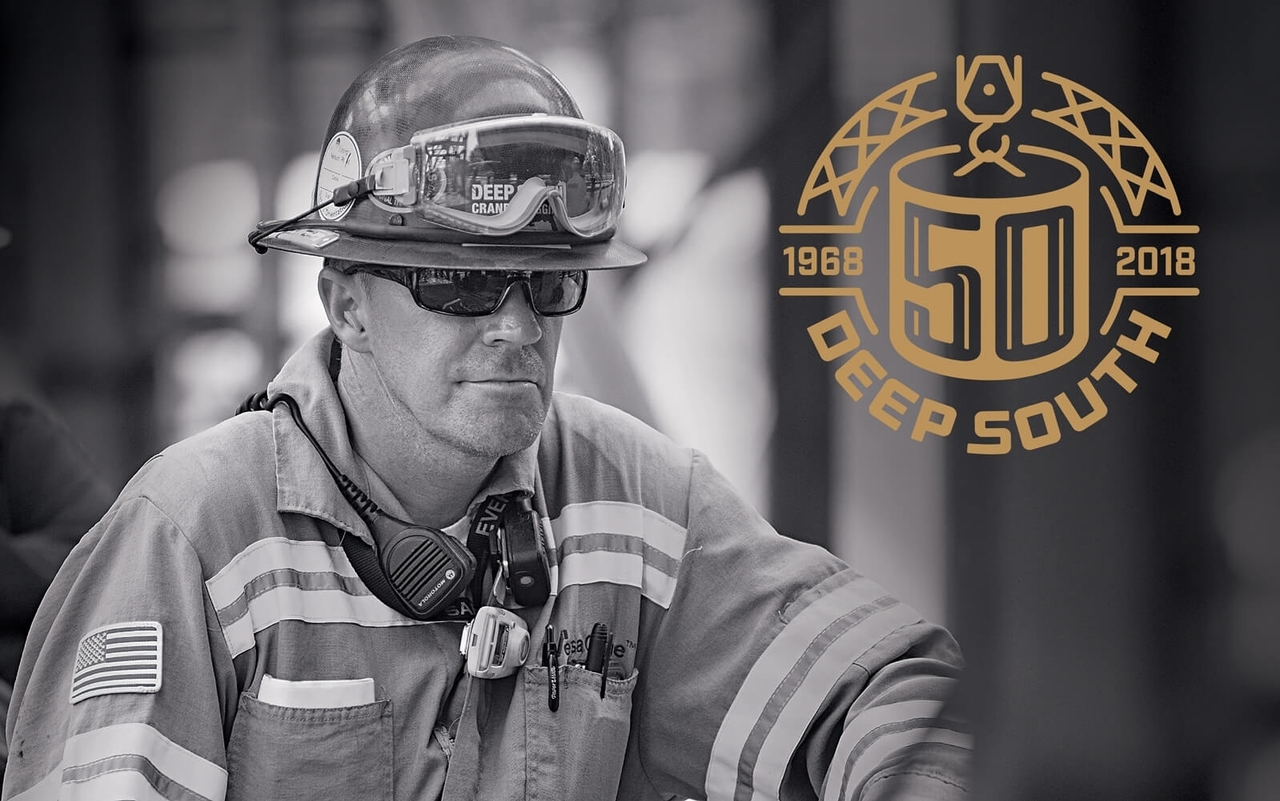 2018 is a milestone year for Deep South Crane. Fifty years after hardworking electrical engineer Camile Landry saw an opportunity to make a go of his own business, Deep South is now among the top 20 crane heavy lift, heavy haul companies in the world, operating nine offices throughout North and South America. As we celebrate a half-century in business, we couldn't be prouder of what our people have accomplished and the future they're paving for us.
Originally founding Deep South as an electrical contracting company, Landry soon realized the rental business could be even more viable, so in the early 1970s, he started small, renting pieces of equipment. When the local market needed more rough-terrain cranes, Landry responded — and with the company's investment in a 300-ton lattice-boom crane, considered a "heavy lift" crane at that time, as well as hydraulic transporters, Deep South became fully committed to the heavy lift and heavy haul industry.
After steady growth throughout the 1980s, Deep South made history in 1993 by revealing the game-changing VersaCrane™, a 1,500-ton crane capable of handling most any challenge while operating in crowded, congested spaces and able to be transported easily and economically. We've continued to invest in this technology, adding a 1,000-ton VersaCrane crawler crane in 2014 and a new, higher-capacity TC-36000 launching this summer.
Today, Deep South offers a full range of heavy lift and heavy haul solutions, including cranes, transporters, specialty rigging, jacking, skidding, gantries, steel matting and bridge systems. We're expanding to meet strategic opportunities; continually refining the best training and safety program in the industry; and actively recruiting the next generation of young talent while outfitting them with the resources they need to succeed. After 50 years in business, we face the future with the same spirit of teamwork, responsibility and respect that has made our success possible.
From day one, Deep South has been a family-owned and operated organization with a customer-first approach. Over the years, Landry's children Regina, Mitch and Brian joined the business, eventually followed by grandchildren Jeremy, Marie, Margaret, Kate and John.
"We want to honor the history of this company by continuing to provide first-class solutions with the same honest, hardworking, safety-first approach that got us here. The way we respond to industry challenges helps pave the road to success for our customers," says Deep South president Mitch Landry. "At the end of the day, that's what we're all about."
The company's success is a direct result of the talent, character and determination of every Deep South employee, past and present.
---
Ramp up Efficiency with Specialized Equipment
Posted:09/25/2017
Deep South has a large inventory of specialized equipment to solve the complex challenges presented in today's heavy construction projects. This video will walk you through our steel distribution systems, moment connection bridge ramps, temporary bridge systems, bolsters, and barge ramps, all of which will bring additional strength, efficiency, and safety to your project.
---