News
---
New VersaCrane TC-36000/S2 makes lifting debut - AC&T Feature
Posted: 10/27/2020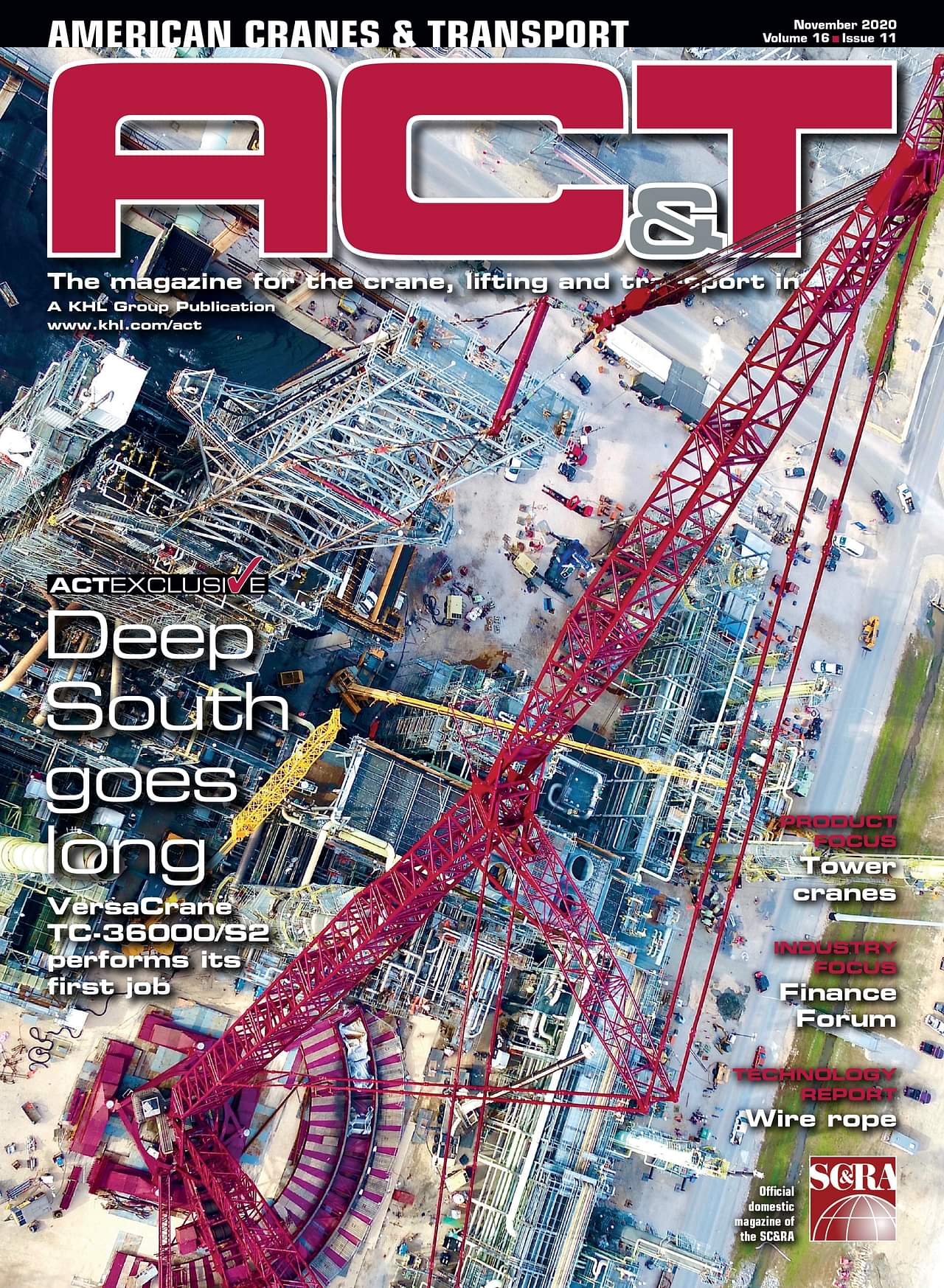 Click to see the feature in American Cranes & Transport magazine.

For more than 50 years, Deep South Crane & Rigging has been distinguishing itself throughout North America. Founder Camile Landry has an intense appreciation for cranes, and he has always been intrigued by projects that require a higher level of skill and expertise. In the 1980s, he saw a need for a new generation of cranes. He envisioned a high-capacity crane with a smaller footprint and a tighter tail swing. He wanted to see a crane that could be transported easier than other heavy lift cranes.
Filling a need
Since the crane he envisioned was not on the market, he recruited crane engineer Dieter Juergens to help him design a new crane. The result was Deep South's signature VersaCrane fleet. The first model was the 1,500-ton capacity TC-24000 that rolled onto its first jobsite in May of 1993.
Today, the VersaCrane line includes units from 750 to 3,000 tons. Three years ago, Deep South began working on its latest model in the lineup, the 3,000-ton capacity VersaCrane TC-36000/S2.
"We have always strived to develop solutions for our customer's increasing and varied needs, and at the time, we had several projects in the feasibility stage that needed a higher-capacity crane than we had," said Jeremy Landry, vice president, Deep South. "Taking a step back, we looked at the current TC-36000 and evaluated ways we could modify certain components to increase the capacity. After making those design modifications, we took it one step further with the counterweight ring system."

Many features of the VersaCrane have been enhanced with the new Series 2.
"First, the Series 2 has a bigger counterweight platform," said Landry. "The platform is loaded with approximately 6,000,000 pounds of counterweight that sits on top of a ring system. The drive motors on the ring system swing the crane during operation. The track for the ring does not have to be a complete circle for the crane to perform, so we only lay enough track for the intended swing radius."
Better line pull
As well, Landry said the wire rope has been increased, which gives a better line pull capacity, and the winches were upgraded to accommodate bigger rope and line pull capacity.
"Also, the first 250 feet of boom were strengthened on the Series 2," he said. "Because of the new increased size, the boom was created with a pin system so that the boom can be transported over the road and within DOTD regulations. This allowed us to increase the strength of the crane while allowing it to travel as the Series 1 does."
The crane has a 1,000-ton capacity with 530-foot boom and jib at a 220-foot radius. The crane is still able to meet low ground bearing requirements and maintain a small footprint.
The new crane performed its first lifting job in August 2019, completing a drum replacement.
"It was a two-part coker changeout," Landry said. "There were two back-to-back turnarounds in which the crane was completely relocated in between the two phases."
500-foot tip height
The crane picked 1,600,000 pounds at a 260-foot radius. The lift was performed while maintaining a ground bearing pressure under 2000 PSF, even for the counterweight system. No piling or elaborate foundation was required.
"The derrick structure had to be removed to changeout the coke drums," Landry explained. "This structure was 375 feet tall. The splice elevation was 163 feet above the ground which left 212 feet of derrick structure that had to be lifted and lowered to the ground."
The jib was made to achieve the tip height required for the derrick structure to clear the drums once it was lifted. The crane was rigged with 350 feet of main boom combined with 180 feet of jib.
"The jib was actually designed from our 1,800-ton TC-28000 boom," Landry said. "The total tip height for this lift was 500 feet."
Testing diligence
To put a crane like this in service, an incredible amount of due diligence is done. The new crane was tested to meet all ASME and ANSI standards. A third-party company was hired to document the tests and certify they were performed to the correct standards. It took about three years to get the crane designed and assembled. Landry said the lead time was shorter because the majority of the crane was already engineered.
"We started building the components that we knew were not going to change such as the outriggers," he said.
Does Deep South anticipate a larger VersaCrane?
"Our engineering team continues to evaluate ways to better serve our customer base, including improvements to our VersaCrane fleet," said Marketing Director Margaret Landry Pernici. "Our exceptional team continues to amaze us in their ability to create these solutions. We know they are really the key to our success."
---
A Technical Towering Roll, Move and Lift
Posted:05/16/2023
As part of a complex project for a refinery, the Deep South team was tasked with receiving, transporting and lifting a 114'-7" x 33'-5" x 39'-10" vacuum tower weighing in excess of one million pounds. This multi-step project required considerable planning, technology and creative thinking.
Safety Source: Food Handling Safety
Posted:05/09/2023
Food handling safety is a critical aspect of ensuring that the food we consume is safe and healthy for us. According to the Centers for Disease Control and Prevention (CDC), foodborne illnesses affect one in six Americans each year. These illnesses can be caused by harmful bacteria, viruses, and other pathogens that are commonly found in food. Therefore, it is essential to know the basics of safe food handling, from storing to preparing and serving.
---