News
---
A One Lift Truss and Tower Take-Down
Posted: 08/15/2019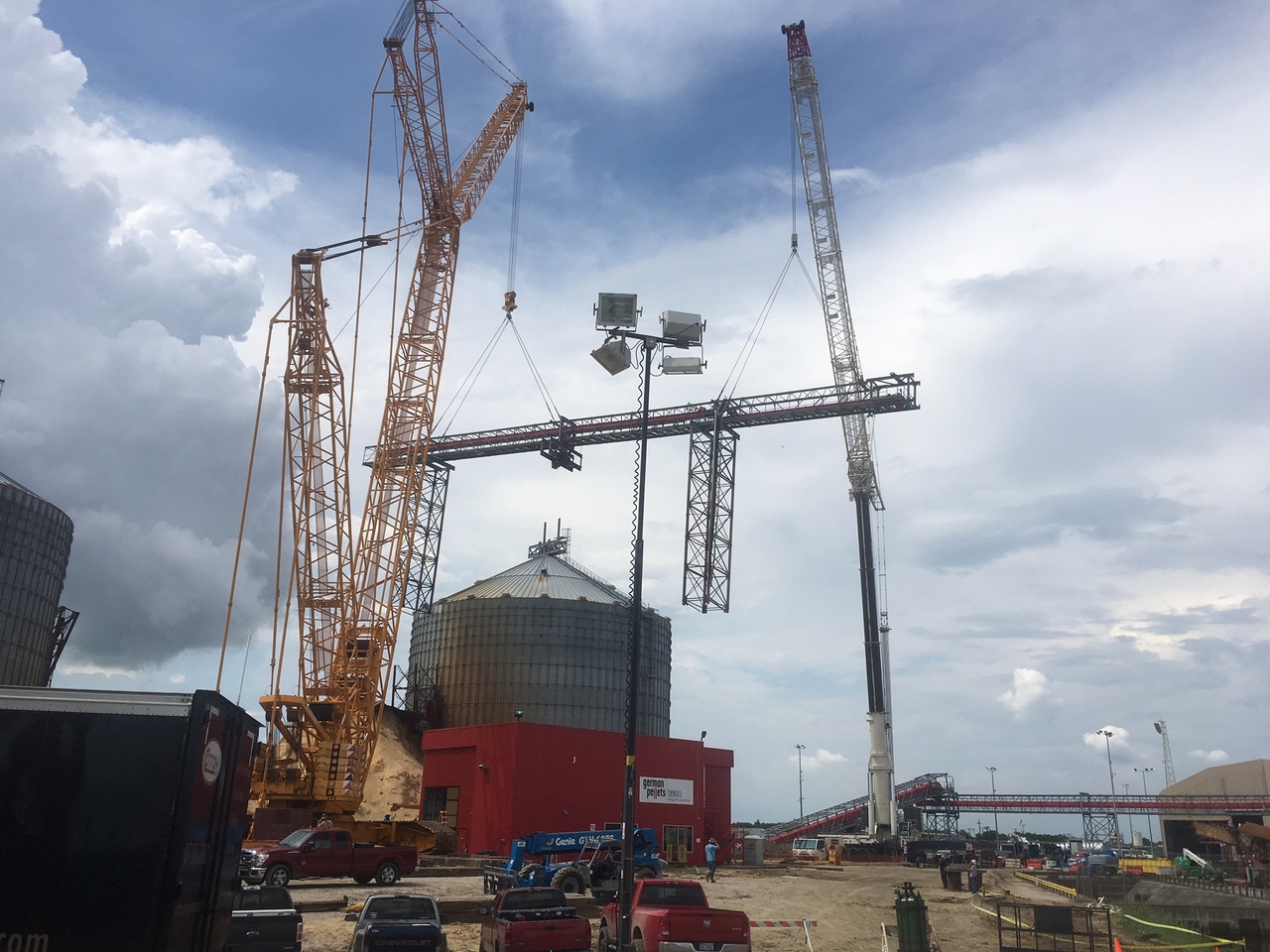 In the Southwest, a 100' diameter wood pellet bin caught fire and collapsed, compromising the 117,000-pound, 215' long truss and tower conveyor system. At the start of the job, the contractor planned to take the truss down in sections using two hydraulic cranes.
Chris Warshaw, Project Engineer at Deep South, says, "After reviewing the proposed plan, we had concerns about the integrity of the truss once a section was removed and the safety of the workers tasked with cutting the sections from the severely buckled truss."
The truss design engineer shared Deep South's concerns, so the Deep South team put together an alternative plan to cut the affected parts of the conveyor system and remove the affected truss and towers in one lift.
Deep South first collaborated with the truss manufacturer to incorporate a rigging system with eight long wire rope slings. Then, using the 1,320-ton Terex AC-1000 (122.7' boom and 157.5' luffing jib) and 660-ton Terex Demag CC-2800-1 (157.5' boom, 157.5' luffing jib) fitted with a 330,700-pound super lift CWT, crews lifted the truss to a nearby lay down area. The lift and shift allowed the demolition contractor to complete work in the burned pellet bin area, significantly reducing the risk to workers.
---
Deep South Crane & Rigging adds four Liebherr all-terrain mobile cranes
Posted:03/01/2019
Deep South Crane & Rigging recently acquired four Liebherr mobile cranes - two each of the LTM 1450-8.1, a 550 US-ton class crane, and the LTM 1300-6.2, a 360 US-ton class crane. The acquisitions give the company cranes with longer telescoping booms than it has had to date.
500,000-pound Deisobutanizer Turnkey Project
Posted:11/27/2018
Deep South Crane performed turnkey transport and lift services for a Southeast oil refinery, transporting a 500,000-pound deisobutanizer from its fabricator in Vicksburg, Mississippi to Krotz Springs, Louisiana using a combination of over-the-road hauling, barging, and heavy lifting. The 1,500-ton VersaCrane TC-24000 as well as the 440-ton Demag CC-2400 lifted it into final position. Lifting bails with all steel-plate links allowed the crane operator to unhook the rigging without any personnel having to access the top of the tower.
---
​