News
---
Combined Gantry/Strand Jack Systems Power Lifts Co-Gen Train
Posted: 03/25/2019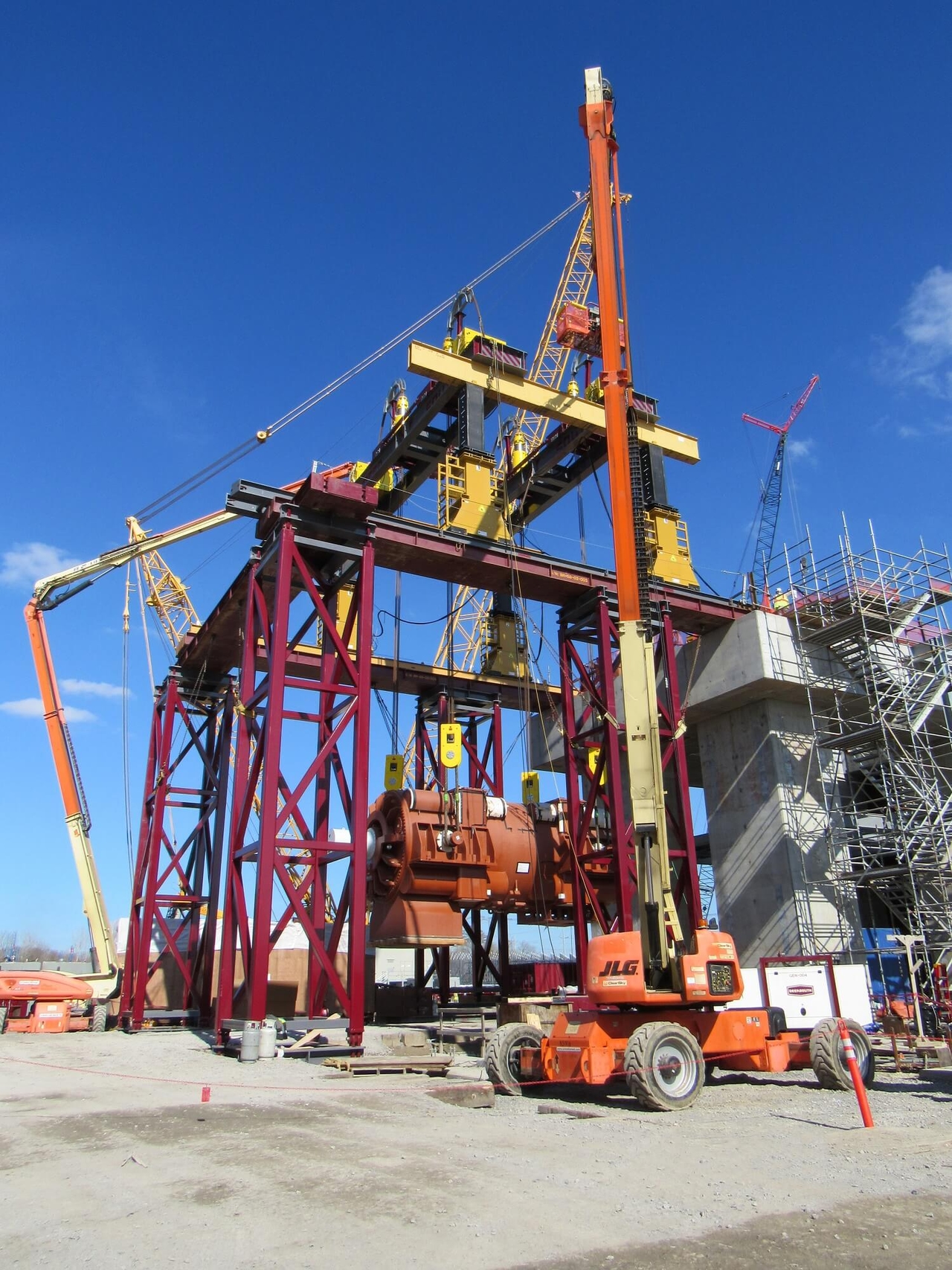 The construction of a combined-cycle power station in Louisiana required a specialty contractor to move, lift and set a STG generator (692,250 lbs.) and HIP turbine (392,420 lbs.).
Conventional approaches using a large crane required too much space, limiting other construction activities from continuing near the generator and turbine erection site. As an alternative, Deep South Crane & Rigging engineered a customized solution that enabled one continuous lift of both the generator and the turbine in a contained space. The solution combined a 650-ton Lift System gantry with an in-house designed tower system and 500-ton Enerpac strand jack system. In addition, the system also included Deep South's Strand Jack Header Beam System with hydraulic side shift capability.
Crews used a double-wide SPMT transporter with a small "Piccolo" PPU to maneuver the generator and turbine each into position under the gantry. Once positioned under the gantry, the strand jacks lifted the equipment 40' to the elevation of the tabletop. Then crews propelled the gantry the necessary distance over the set location. For the turbine, the gantry system traveled a little over 122 feet, while the generator was moved a little over 56 feet.
When positioned over the set location, Deep South used the gantry to lower the equipment into place while the strand jack header beam system facilitated side shift as needed for final alignment. Deep South performed all engineering associated with the lifts including stability calculations, structural design of the system, and lift drawings.
The rigging crew completed the job safely, saving the client money and time while also allowing construction to continue adjacent to the lift location.
---
Deep South Crane & Rigging adds four Liebherr all-terrain mobile cranes
Posted:03/01/2019
Deep South Crane & Rigging recently acquired four Liebherr mobile cranes - two each of the LTM 1450-8.1, a 550 US-ton class crane, and the LTM 1300-6.2, a 360 US-ton class crane. The acquisitions give the company cranes with longer telescoping booms than it has had to date.
500,000-pound Deisobutanizer Turnkey Project
Posted:11/27/2018
Deep South Crane performed turnkey transport and lift services for a Southeast oil refinery, transporting a 500,000-pound deisobutanizer from its fabricator in Vicksburg, Mississippi to Krotz Springs, Louisiana using a combination of over-the-road hauling, barging, and heavy lifting. The 1,500-ton VersaCrane TC-24000 as well as the 440-ton Demag CC-2400 lifted it into final position. Lifting bails with all steel-plate links allowed the crane operator to unhook the rigging without any personnel having to access the top of the tower.
---